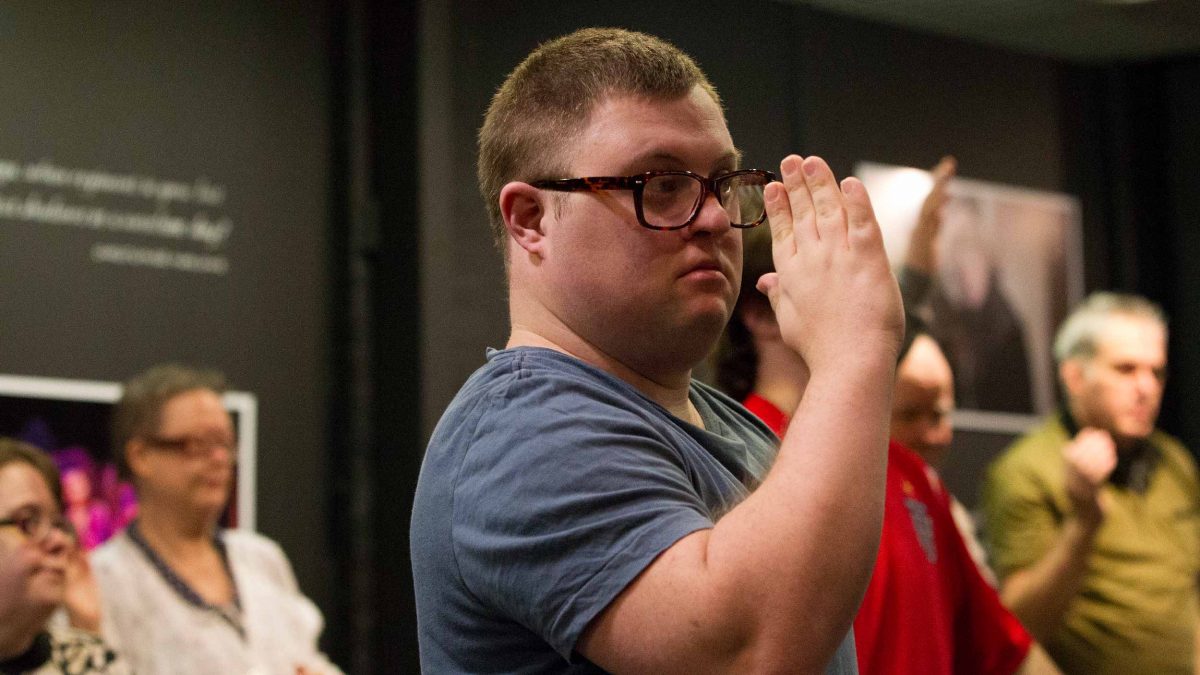 Movement for inclusion
Thu 23 Jan 2020
A new term has started for the Marlowe Access Company, which offers sessions for adults with learning disabilities. We spoke to practitioners Jo Frater and Grace Wranosky about creating theatre collaboratively and training with a meaningful approach.
The Marlowe Access Company's new term is underway. The sessions, which are based at The Marlowe Kit, offer training in dance, movement and acting.
Jo Frater is the founder of ConfiDance – an East Kent organisation delivering contemporary dance with and by people with learning disabilities – and runs the sessions collaboratively with The Marlowe.
"I founded ConfiDance around 15 years ago, with the ambition of developing a dance practice that was open and accessible to people with learning disabilities, and to explore the potential of dance as a vehicle for personal development and social cohesion," she says.
Grace Wranosky joined ConfiDance four years ago after completing her MA in physical acting at the University of Kent and developing a physical theatre collective called GOLKK.
She says: "A typical session begins with warm-ups and dance technique, and an opportunity for the company to develop how they work and communicate as a group. We may then explore vocal technique, preparing us for working with text. The first half of the session focuses on exercises which lay the groundwork for creating – building on performance skills and devising. After a break, we would then look at creating performance, by slowly piecing different exercises together to devise a piece."
She adds: "As a physical performer, I found that movement is a brilliant baseline for inclusion – non-verbal communication surpasses the barriers of language and can engage audiences from all kinds of backgrounds. It is also a wonderfully holistic way to train as an actor, building embodied confidence and a shared experience amongst ensembles."
Participants have been offered performance opportunities during their time with the Access Company.
Jo says: "Our approach aims to build our participants' technical skill and their confidence and independence whilst creating a space where everyone can grow as an artist."
"In terms of skills, we have explored choreographing and collaboratively directing, physical development such as mobility and strength and performer skills such as eye contact, presence and movement dynamics. We have created performances such as Marvellous Party, inspired by Noel Coward, which was performed in the Chapel and then adapted for Return Of The Unknown in Dover. We most recently created Orbit – a piece inspired by Holst's The Planets performed in the Virtual Orchestra exhibition at the Sidney Cooper Gallery."
"The Access Company specifically seeks to engage people with learning disabilities in the local community, by inviting them into a creative space where we create theatre collaboratively – where we train with a meaningful and professional approach, rather than simply aiming for participation in the arts. The goal is to create an ensemble who can make theatre democratically and challenge audience expectations."
The company have a number of activities planned for the upcoming year, including the exploration of a poem that was written for Canterbury.
Grace says: "We are currently looking at the foundations of what it means to be an ensemble and building a strong company of performers. We have also begun working on a piece inspired by The Cantuarian, a poem written for Canterbury by Lemn Sissay – lines from the poem are woven into a dance and movement piece, responding to our imagination of rivers, water and Canterbury."
Please email Jack to book on to our five week taster session here.