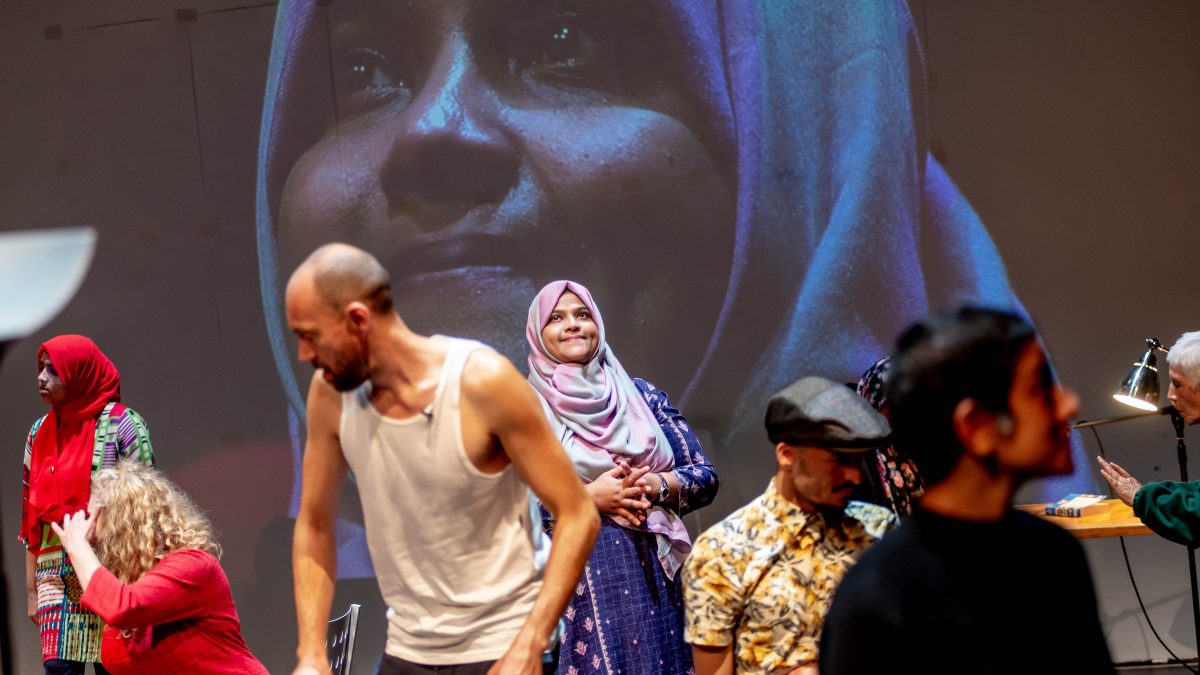 An update from Maria Aberg of PROJEKT EUROPA, our resident company.
Mon 13 Sep 2021
Dear Friend,
It's been a while! It's Maria Aberg here, artistic director of PROJEKT EUROPA, The Marlowe's newest resident company. We've had a hectic summer – but it's coming to an end, and we'd love to share what we've made with you.
Back in May, we started work on a trilogy of pieces called WE ARE THE STORIES. Supported by The Marlowe, Arts Council England and Farnham Maltings, we wanted to develop three connected projects that explore the boundaries between co-creation, participation and performance. We wanted to stay true to our mission of making work from an international perspective, and to develop projects that really connect with the people in the places they're being created.
We invited two fantastic migrant theatre makers to develop ideas alongside myself – Laila Diallo, a French-Canadian dance artist based in Bristol, and Agnieszka Blonska, a Polish theatre maker from Cornwall. Together, we discussed the possibilities and challenges of making work that related to Kent as the border to Europe and the world, and that harnessed the creative power in Kent's own migrant community.
The result is three very different pieces that share a few simple ideas. Each piece is made with a combination of professional performers and community members. Everyone involved, both professionals and amateurs, have lived experience of migration in some way. And the stories that form the basis of the pieces come both from the lead artists, and from the community participants.
The first piece, LET YOUR HANDS SING IN THE SILENCE, is a memory project, structured around the family tree of the central performer, Robert Lučkay. Using Lučkay's reconstructed memories as a scaffold, the project works with local communities to share, develop and perform their own memories alongside his. Together, they attempt to recreate a fragmented and unreliable past, interweaving their stories to create something communal out of what at first seems individual. You can watch a short film about this project on our website, here.
The second piece is called IN THE COMPANY OF OTHERS, and is a collaboration between Laila Diallo, Venezuelan performer Ania Varez, and local community members. This piece is an exploration of edges and our relationship to difference, ambiguity and change. On Saturday 18 September at 4pm, we're opening the rehearsal room to invite you in for a sneak peek into the process of making this work, and for a chance to speak directly to the artists. I will be there too, to answer questions and tell you a bit more about the work. Tickets are absolutely free – you just need to book, right here!
And the third piece, called FEAST: INGREDIENTS OF US, looks into the tensions between culture and nature and asks big questions about our core values and our place within eco and political systems. Through cooking, eating and sharing recipes, the piece explores childhood memories, family relationships and present experiences. Saturday September 25 at 4pm is your chance to watch an excerpt from this piece, which promises to be a joyous, communal experience – book your free ticket here!
I'm really looking forward to meeting you and sharing some of the work we've made, while we're still in the process of making it. Come and say hi, and let us know what you think!
See you there!
Warmest wishes,
Maria.