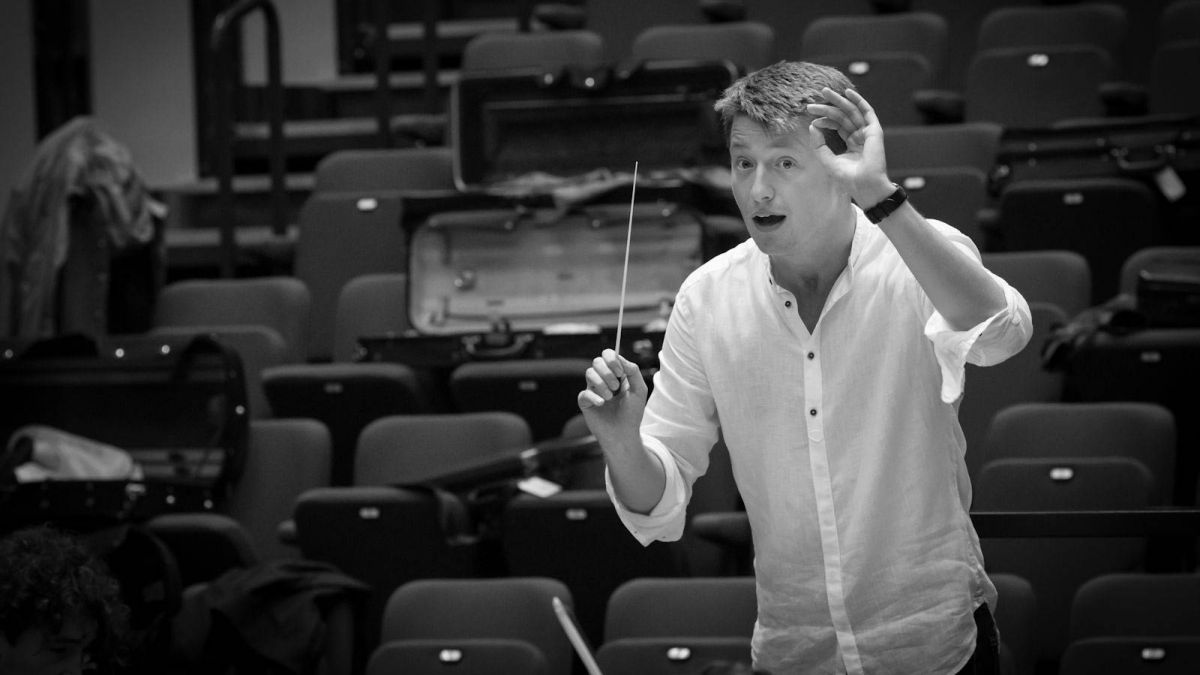 A conducting life
Thu 18 Oct 2018
Interview with Duncan Ward, conductor of Massenet's Cinderella (Cendrillon), which is coming to our theatre next month as part of the Glyndebourne Tour 2018.
You were born in Kent and went to school in Dartford. What are your memories of growing up in the area?
I was lucky at Dartford Grammar School to have an inspiring Head Of Music in Simon Hayward. When aged 12 I returned from the summer holiday with a full-length musical I'd composed on Alice In Wonderland, he had a quick look through the score and told me just to 'go for it'. So I started conducting rehearsals with the choir, orchestra and big band, auditioned my teachers as the soloists, and mounted the production at the end of the year.
Do you still have any connections with Kent? Are you looking forward to returning there with the Glyndebourne Tour of Cendrillon?
My parents still live in Longfield where I grew up and I have many old friends who live in the area, so it very much feels like returning home from wherever I've been working across the globe. Canterbury itself holds many childhood memories from school history trips to concerts in the cathedral, and I can't wait to bring this exciting new production of Cendrillon to its audiences.
This is Glyndebourne's first-ever staging of Cendrillon. Most people will be familiar with the Cinderella story, but perhaps not with Massenet's version of it. What can the audience expect?
Massenet's Cendrillon is an intoxicating, colourful score that veers from passionate, almost Wagnerian romantic lyricism for the two lovers, to French-Rossini style comic bustle for the step-family, baroque pomp and circumstance for the Palace ball, and an exquisite shimmering impressionistic sound-world for the dazzling fairy scenes that anticipated what Debussy would go on to write some years later.
Massenet takes Charles Perrault's original narrative with all its richness and ambiguity regarding what is dream and reality and the darker human questions and truths underneath this familiar fairytale.
It's an undeservedly neglected masterpiece that I feel is a perfect opera for Glyndebourne to throw a new light on, not least because of all the opportunities within it to celebrate Glyndebourne's famous chorus in various sizes and formations and smaller individual roles.
What is it like working with legendary director Fiona Shaw?
Fiona is a live-wire creative force, with a buzzing mind that never stops searching for a better idea or more interesting solution. She has a wicked sense of humour and our rehearsals and conversations together are regularly broken with fits of laughter. She's also a highly collaborative artist and is always keen to seek out insight on the music and how it could be reflected and transformed in the staging.
You have conducted for Glyndebourne several times now (including previous Tour productions Don Pasquale and Hamlet). Tell us about your experience of being here. What do you most enjoy about it?
There is a unique, almost magical atmosphere to working at Glyndebourne. I feel it has a lot to do with the picturesque setting in the heart of the countryside. The calm focus this instills on every department seems to help enthuse everyone to deliver their utmost best with a level of passion and dedication that can be harder to come by so consistently elsewhere.
At the age of just 28, you have already worked with the Orchestre de Paris, London Symphony Orchestra, Berliner Philharmoniker, Vienna Radio Symphony Orchestras and others, as well as composing your own works. Are you conscious of being a rising young star of classical music? Is it a pressure?
I'm lucky to have had some fantastic opportunities and making music with these amazing ensembles is such a joy that it's sometimes hard to think of it as a 'job' or a 'career'. The higher people's expectations, the harder you need to work to make sure you are always delivering the composer's wishes to the best of your ability, so in an already packed schedule that doesn't leave much time for worrying about stardom.
Opera is sometimes seen as difficult or inaccessible. What was your introduction to the art form? What advice would you give to someone (young or old) who is curious about opera but unsure where to start?
I'm not from a musical family and I didn't actually have a chance to experience any opera as a child. But I was always fascinated by everything to do with theatres, loved musicals and would regularly put on plays with my siblings in our living room or in the garden. In my late teens I gradually realised opera was an ultimate combination of many of my emerging favourite things: music, singing, dance, acting, design, lighting, costume…
I think the most important thing for a newcomer to opera is not to feel any pressure to 'understand' everything… operas can be an overwhelming sensory overload and the best approach I think is just to grab a ticket to see something (anything!) live and be open and curious to how it makes you personally feel.
You have done some fascinating projects with MIAGI (Music Is A Great Investment) and The WAM Foundation, promoting music education and exchange between different cultures. Could you tell us a little more about this?
I've always been fascinated in many different styles of music from all over the world. Aged 17 I organised a trip in my summer holiday to Kerala, India, to teach music in several schools. I had a fantastic time with the students and teachers and at their request ended up founding a charity, the WAM Foundation that over the next eight years sent dozens more musicians all over India to engage in cultural exchange projects in schools, orphanages and in the slums. Through this work I also had the great privilege to discover Indian classical music when the late great Ravi Shankar asked for me to come and study with him for a summer at his home in California.
Most recently, this summer I made a long concert tour celebrating Nelson Mandela's centenary with an amazing young orchestra MIAGI (Music Is A Great Investment) with musicians from across South Africa of every colour and background. They are phenomenally talented and their spirit is so infectious that in all 15 of the fancy venues we performed in across Europe from the Concertgebouw to the Elbphilharmonie and Verbier Festival, never did we finish my piece Rainbow Beats at the end of the programme without the entire audience on their feet dancing, clapping, cheering and sometimes even singing along.
What's next for you?
Squeezed between performances of Cendrillon I have exciting projects with the Vienna Radio Symphony at the Musikverein (Haydn, Scriabin and three world premieres!) and my debut with the Frankfurt Radio Symphony (with works by Wagner and Dieter Schnebel). I also have to compose a new work for the Bamberg Symphony Orchestra. Then I'm looking forward to returning to the Scottish Chamber Orchestra and l'Orchestre de Paris, and meeting for the first time the Royal Philharmonic Orchestra and the Rotterdam Philharmonic.
Cendrillon: The Theatre, Wednesday 7 and Saturday 10 November.