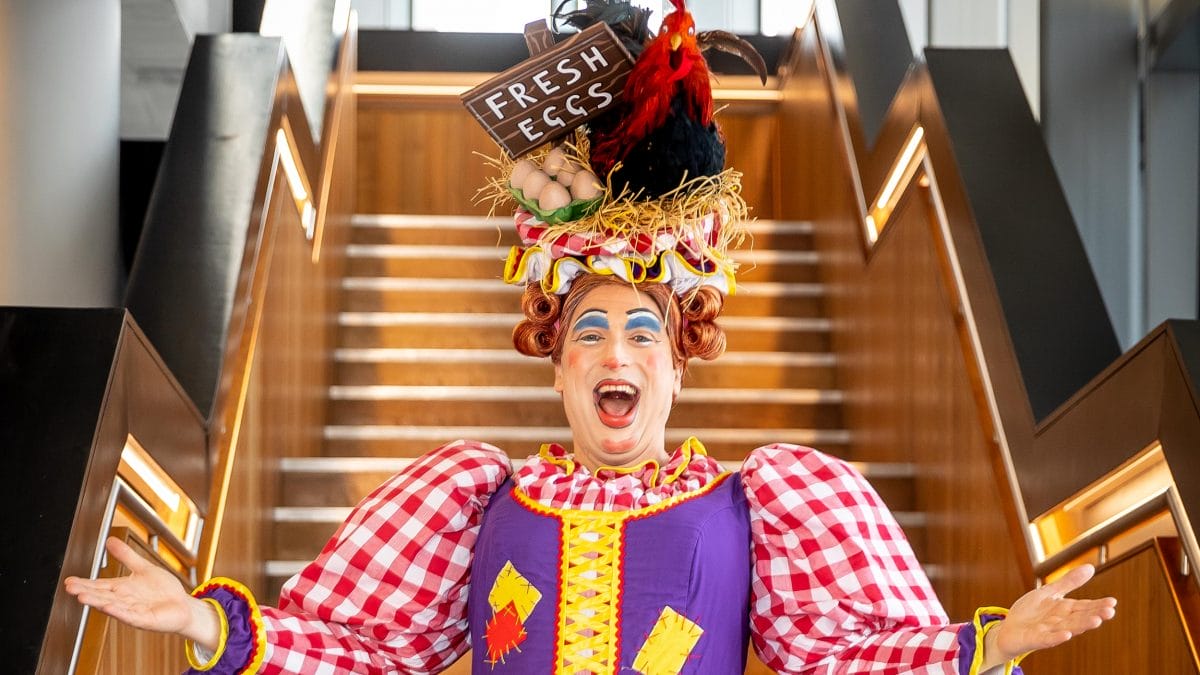 Why it's an egg-tra special year for Ben
Thu 7 Nov 2019
With one week to go until the start of rehearsals for Mother Goose, we catch up with actor Ben Roddy about his 10 years in The Marlowe pantomime.
This is your 10th year of working with The Marlowe, how does it feel to reach that milestone?
It's really lovely. It's come a bit by surprise. You don't set out to do 10 years – you just work and hope that people like it. It's a fantastic shared experience between us and the audience and to keep being asked back is a great honour. It's certainly not any plan, although it has brought me to Canterbury. In that sense it's fantastic, it's a place we love to live now and we wouldn't live here if it wasn't for The Marlowe pantomime, so we've got a lot to thank it for.
Why did you decide to move to Canterbury with your wife Kate and son Stan?
As an actor I work all around the country all year and Christmas is a really important family time. We'd always loved Canterbury. I'd been working down here for three or four years doing Panto before Stan was born. Kate and Stan would often come and stay with me. It seemed like an obvious place to start to look. The charms of Canterbury are pretty obvious – beautiful city centre, lovely people, not so far from London (where a lot of my work is) and also, it started to look by then like I might be asked back to do Panto here and it's lovely to be at home for Christmas. I've got a very supportive, understanding wife and son and it's been a great move for them. Stan is at a lovely school, Kate now works down here as well so it's been really positive. We've got loads of friends and it's a great place to be.
Can you tell us about how you had to leave a Cinderella performance for the birth of your son in 2011?
It was the first Panto in the new Marlowe. Stan was due to be born early February and he was born on Saturday 18 December on a three-show day. I was playing Dandini at this point. The overture had started for the first show at 10.30am and I got the phone call saying Kate had gone into labour. I jumped on the train and Kate was in labour for about a day. Stan was born about midnight. I did miss three shows, the only three shows I've ever missed. I came back a dad and did the two shows on Sunday, which were a bit of a blur to be honest because I hadn't slept a wink. It was a real team effort. My friend Alex took over from me, all the cast were brilliant, Paul and Emily (of Evolution Productions) were amazingly supportive, as was everyone at the theatre. Our family life is tied up with this theatre.
What's it been like working with The Marlowe over the years? What's kept you coming back?
It's one of the best theatres in the country, it's really brilliant. It's a beautiful theatre but it's the people too. I loved the old Marlowe as well. The people who work there are great, the audiences are second to none, the Pantos we put on are some of the best in the country. I love it. It's the best way to spend Christmas – you can't help but feel Christmassy when you've got 1,200 people in cheering and shouting and singing Christmas songs before you start. That's why I keep coming back, we're all addicted to it.
What have you learned over the years in Panto, have there been changes to your performance you've made along the way?
I hope I've got better and more confident and able. I can't throw myself around quite like I used to a few years ago but what I've lost in knee cartilage, I've gained in timing, I hope!
How has it been taking on the role of Panto dame from Dave Lee?
At first it was terrifying. Dave was – and is – an incomparably loved performer round this area. He was absolutely brilliant; he was a tireless fundraiser and an incredibly kind man, personally. I always said to myself that Dave's irreplaceable. I'm never going to fill his shoes but I was very proud to be following in his footsteps. He was a mate and he was so kind to me as a younger performer. Dave was a lovely, warm, funny, kind man. I was nervous, but equally it was an honour.
Paul (Hendy) said everyone had a story to tell about Dave. What's your favourite story?
Just before he died, Stan had recently been born. Dave was really very ill at this point. I got a beautiful phone call from him that I didn't answer because I was on stage at the time doing Cinderella, saying how delighted he was about Stan and how he couldn't wait to meet him. He proceeded to leave a five-minute answerphone message doing an impression of Oliver Hardy talking about Stanley. It was brilliant and touching and brought a tear to my eye. You couldn't walk past his door without being invited in for a sit down on the sofa and a cuddle. His door was always open. It was rightly named The Dave Lee Suite and he'd always get a load of furniture delivered. It was like a lounge. It was great.
What's your favourite thing about playing the Panto dame?
I love the fact that you're on the audience's side and you're kind of one of the audience. They're so good. They cheer when you bring the bench on – that was another Dave legacy. It's like no other Panto in the country and so it's a privilege to be their dame. That's what I love most about being the dame, it's being the Canterbury audience's dame. They've really taken me to their heart and it's very touching. I feel very lucky and it's a real pleasure.
What does the rest of the year look like for you when you're not working in Panto?
I worked with the Royal Shakespeare Company (RSC) for the first time this year. I finished Panto in January and started with the RSC in February. It was brilliant, it was a lovely company and the The Swan is a beautiful theatre. I did two Restoration plays – The Provoked Wife by John Vanbrugh and Venice Preserved by Thomas Otway. I did a bit of producing and a rep season with Harrogate, which was on at the same time as the RSC (so I was flying up and down the M6), but it's been a good year. It's been busy but that's what it's always like as an actor, it's never dull. I finished at the RSC and couldn't wait to get home. It's lovely to know at the end of the year, you're going to be at The Marlowe, which is my favourite theatre of all I think, doing Panto.
Mother Goose: Thursday 28 November to Sunday 12 January.