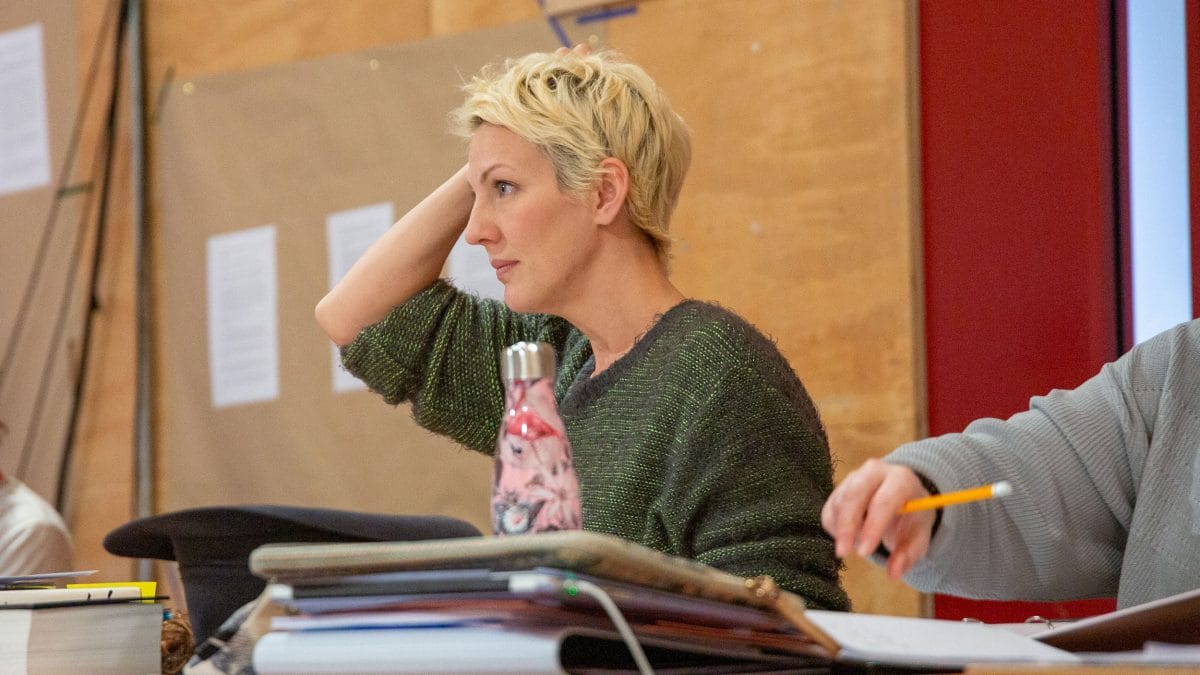 Meet Maria Aberg of PROJEKT EUROPA, our new resident company
Mon 15 Mar 2021
Dear friend,
My name is Maria Aberg and I am the Artistic Director of PROJEKT EUROPA. We are an international theatre company making radical and generous work by migrant theatre makers, and as of today, we are company in residence at The Marlowe. We will be making new work from our base here in Canterbury, for local and global audiences. We're very excited to get started and to get to know you all!
In normal times, we'd probably have invited you to a big party to celebrate being here – chatting, eating weird bits of party food and maybe even setting off some fireworks. But for now, we invite you to consider this our champagne cork pop – hello! Here we are. We're so happy to be here and we can't wait to meet you all.
So why The Marlowe? And why Canterbury? Why are we actually here?? Good question! The Marlowe is one of the loveliest theatres we've seen. The main house, with its gorgeous seating and huge, inviting stage – who wouldn't want to make work there? And The Studio, where it feels like anything could happen and any sort of world can be created, is just as exciting. Not to mention that it's the UK theatre closest to Europe! But really, the clincher is YOU – a loyal, supportive and curious audience who packs out every seat again and again. And Kent has a rich and complex relationship to migrants and the rest of the world which we are eager to explore and learn about.
What does it mean being a company in residence? What will we actually DO? Well, we are going to be making some theatre – theatre that is generous, inventive and international – across both spaces in The Marlowe. We'll be making contemporary work that is playful and experimental and that sometimes takes place in more than one language. And we want to do that in a way that includes you all. We're going to open up the rehearsal room for you to come and have a look at what we're making. We're going to get your involved in the process, too (but only if you want to!). And we're going to find lots of other ways to have an open, relaxed conversation with you about the work we make, how we make it, and why.
We will collaborate with migrant theatre makers who are based in the UK, to create theatre with lived international experience at its heart. At a time when travelling is still tricky, we will bring the world to your doorstep – the wonderful, the surprising and the unusual. And despite our name we won't just be looking to Europe for inspiration – it's a big world out there! We're also going to help connect The Marlowe to international theatre makers and organisations, to offer new perspectives and to provoke change. We are looking forward to collaborating and to creating ambitious new projects, so watch this space – we've got big plans brewing…!
You'll be hearing more from us soon – you can sign up to our mailing list here and we'll send you updates and news as soon as we can. And if you've got any questions, or just want to say hello – drop us a line here by email. We'd love to hear from you and we can't wait to get started.
Warmest wishes,
Maria Aberg, Artistic Director PROJEKT EUROPA.
You can find out more about this announcement on our blog.