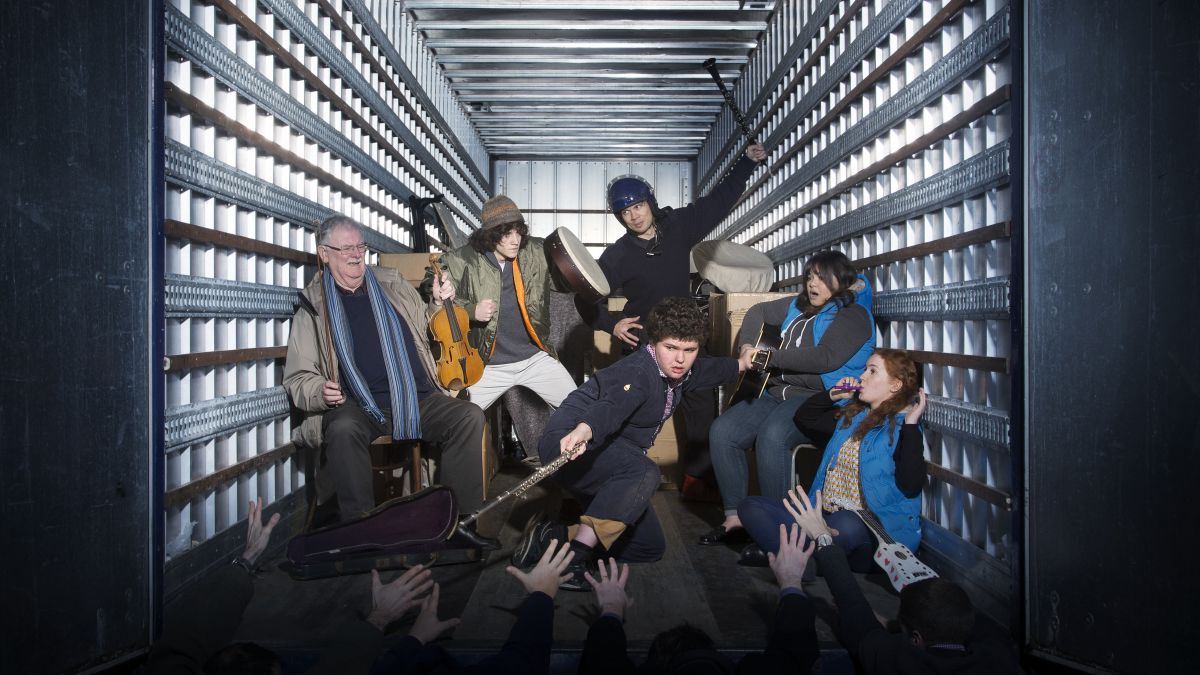 Stacked!: The Writers' Tales
Mon 4 Jul 2016
To whet your appetite for this year's community production, Stacked! we're talking to some of those involved in the production.
In the spirit of The Canterbury Tales, the production is made up of several stories, told – appropriately – by a group of people stuck in The Canterbury Tales pub (for the uninitiated, that's the one just across the road from our theatre). The tales were written by members of our writers workshops. Here, a few of them discuss the inspiration behind their tale.
---
Barbara Woodhams: The Nun's Tale.
"In the original Canterbury Tales, Chaucer wrote about a Prioress called Eglantine who was the head nun of a convent. She spoke French and ran a boarding school.
I chose this story because when my mum was at school she was chosen to read the part of Eglantine, and also because I enjoy writing parts for children.
It's about two nuns from a convent school in Paris who are smuggling a group of immigrant children from the Calais camp. By pretending they were a school group, they had managed to get the last ferry out of Calais and are making their way to their sister convent in Thanet. They arrive at the Canterbury Tales after following a boy from their group who has run off.
The nuns ask to stay overnight and the landlord reluctantly agrees. Some of the customers are hostile at first, but change their minds after the children tell their stories.
I support a charity in London which is run by nuns. As well as being kind and compassionate they are down-to-earth and humorous. I hope my story will do them justice!"
Sally Allen: The Alien's Tale
"When our writing class were invited to contribute towards the community production, Stacked!, it felt like a great opportunity but also a big responsibility.
I thought about who could represent the ultimate immigrant and eventually came up with the idea of an alien.
The first draft I submitted was far more adult led and Andy later asked if it could be tailored more towards the younger actors and to include more children. That proved to be great news for me as writing for children is fantastic – there's nothing they won't say, no need for subtlety and tact, it was game on.
My favourite character is John, 'the wild one' who ironically has a non speaking part. He came about naturally but I later realised it could provide the perfect part for a shy beginner.
Overall, it was great fun creating these characters and I hope the little aliens come across as ordinary kids, with extraordinary lives."
Ribs Norman: The Widow's Tale
"My contribution to Stacked! is based on The Wife Of Bath's Tale. I chose to put a modern twist on The Wife Of Bath, the most interesting of Chaucer's female characters. Knowing that she had multiple husbands, I thought it would be fun to change her into a murderous femme-fatale. I first tried a parody of Seven Ways To Leave Your Lover before settling on a cabaret number along the lines of He Had It Coming from Chicago. The end result was the lyrics to a five-verse song and pretty vague stage directions for a composer and choreographer to work their magic on. I'm really looking forward to seeing the end result and how it fits into the narrative framework that Andrew Dawson has created."