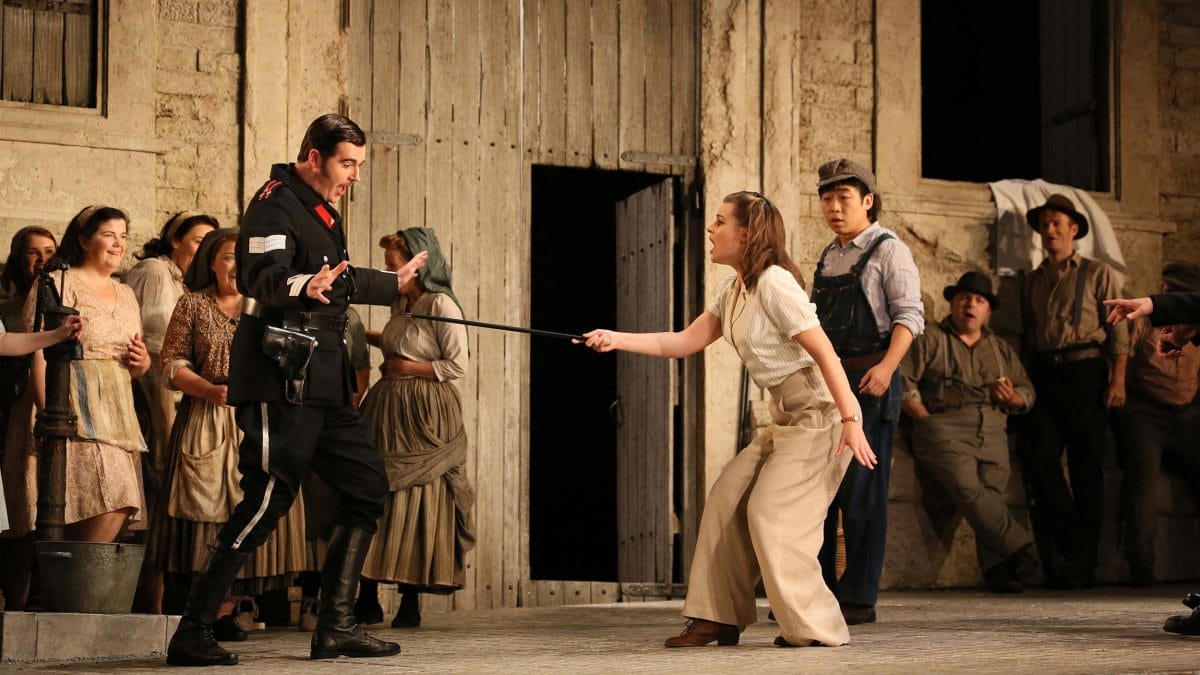 Romantic comedy of an opera
Fri 1 Nov 2019
Matthew Durkan, a baritone from Derby, went from playing guitar in pub bands to become a rising star of UK opera. This autumn he is performing the role of Belcore in Donizetti's romantic comedy L'elisir d'amore for the 2019 Glyndebourne Tour which visits The Marlowe Theatre in Canterbury in November. In this interview he recalls how his musical ambitions switched following a life-changing school trip to the opera and explains why playing darts is a great way to unwind.
Can you tell us a bit about your character Belcore?
Belcore is an incredibly self-confident and charming sergeant, or thinks he is! The first time we see him is when he swaggers into the piazza with his soldiers and asks Adina to marry him on the spot.
This production of L'elisir d'amore is very bright and colourful with lots of humour – a real romantic comedy of an opera. What are your favourite parts of the show?
I love the whole show; I think that's why I'm always surprised at how quickly it goes. There's never a down moment and the action always keeps moving. Annabel's production is faithful to the characters and music in Donizetti's score, so it all just really works. One of my favourite moments is the famous aria Una Furtiva Lagrima, sung by the amazing Sehoon Moon as Nemorino. It's the only moment we see a character on their own, no inhibitions and really letting it all out – and he nails it every show!
Your early musical experiences included playing guitar in pub bands – when and why did you decide to become an opera singer?
I went on a school trip, organised by my A-Level music teacher, to see The Magic Flute at the Royal Opera House (ROH). We were at a schools performance, sitting in the balcony seats, and I was just blown away by the power of the voices filling the theatre. From then on, I was obsessed and 10 years later, I will make my debut on the ROH stage this season! I'm lucky enough to sing Belcore for a schools performance at Glyndebourne as part of the tour, which will be a special moment for me, as you never know who will be inspired to take up singing from seeing this show.
Do you still play the guitar?
Not as much as I'd like. Being away from home singing means I can't lug a guitar around with me but I sometimes like to play some of my old songs when I'm at home. Metal/rock music will always be special to me, as it's what got me into taking music seriously, and is as big and passionate as opera!
Aside from classical music, what other kinds of music do you enjoy?
I love a lot of different types of music (they all say that) but I've been most interested in progressive rock/metal as that's what I grew up with. My favourite band are Dream Theater – I even have a few Dream Theater tattoos! There's something about virtuosic playing and expansive song writing that I really took to. I'd like to say I listen to all sorts day-to-day but for the last few years it's been 99 per cent opera!
The life of an opera singer involves lots of travelling – what are the pros and cons of life on the road?
It is really tough; half of your time is spent stressing about delayed trains, flights and sorting accommodation. You do get to visit some amazing places and meet some great people, but I always cherish being at home in the Midlands. I have a two-year-old son, who has been staying with me for some of the time at Glyndebourne, which has been amazing. Sometimes it's not possible for my family to travel with me and it's really tough being away from them, but it means I cherish the time I have at home even more.
Do you have any pre-performance routines to get you ready to go on stage?
I usually like to have a very relaxed day leading up to a performance and maybe do a bit of singing in the morning to warm up and then leave my voice alone until the few hours before the show. I had my cockapoo, Barney, with me at Glyndebourne for the shows here, so having a nice long walk with him around the countryside near Lewes was a really good way to warm up my body and relax – if he's being a good boy!
What do you do to switch off from the demands of singing and performing?
Apart from spending time with my family and pooch, I love playing darts. It requires a lot of focus, it's very mechanical and meditative in a way, so it really helps me switch off from work and focus on something completely different. It is also like singing in that you really have to have a relaxed-focus, 'in the zone', when you play or they'll go all over the shop – not that they don't when I throw them anyway! That's what I love about performance too though, the only way to deliver is to be 100 per cent invested in that moment, which isn't something you can really do in day-to-day life.
Darts is also a game that you can join in with people from a local community, wherever you are. I was recently doing a show in the south of France and met some amazing characters and new friends playing in a local bar with a dartboard. When you are away, sometimes you can find yourself in the cycle of rehearsing, going to the shop and then going back to your accommodation for the duration of the contract. I find it a great way to get to know people wherever I'm working.
What is next for you?
I will return to English National Opera over the next few seasons, where I have spent most of my career so far. I have some really special friends and colleagues there, so I'm really excited to be back there after Christmas for Carmen. After that, I make my debut at the Royal Opera House, which will be a very special moment for me. I feel so lucky that I've had the opportunity to make my debuts with both Glyndebourne and ROH this season. Sometimes I have to pinch myself!
Glyndebourne Tour 2019: Tuesday 5 to Saturday 9 November.