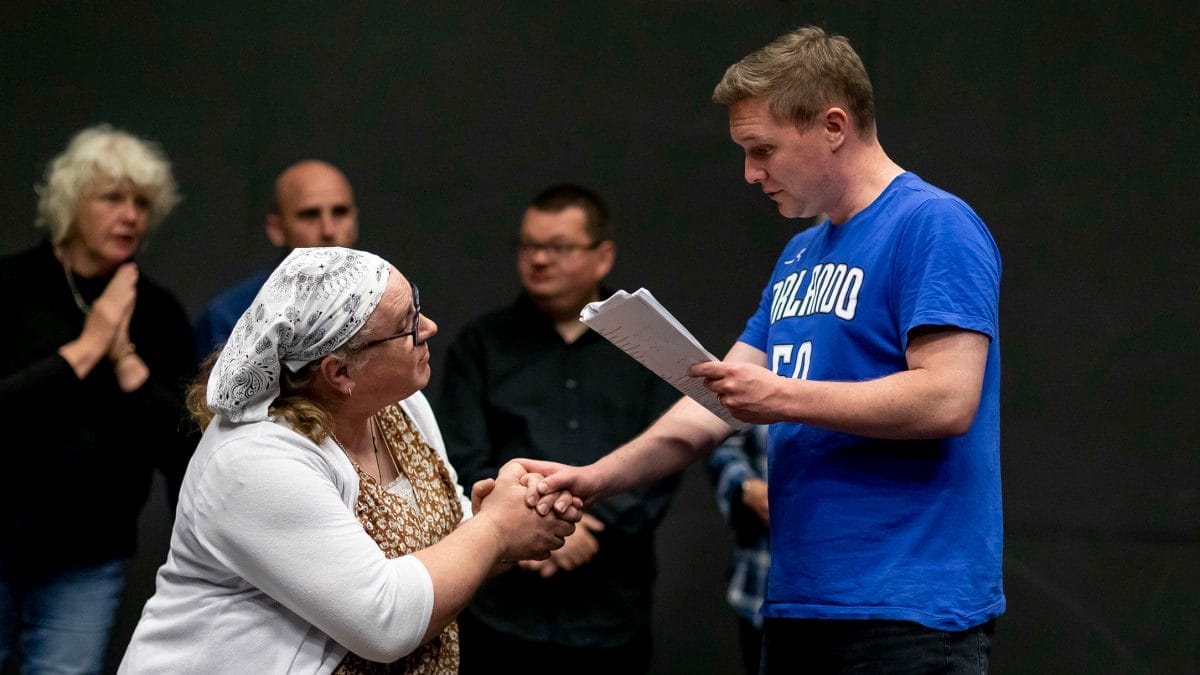 Rebellion, Rehearsals And The RSC: An Interview With Our Shakespeare Nation Company Director
Thu 12 May 2022
There's been a small rebellion happening in Canterbury every Wednesday evening for the last few weeks. Now the moment is nearly here where that rebellion will be heading up to Stratford-Upon-Avon for their final stand. But this is no ordinary rebellion, it's our Shakespeare Nation company of course!
Consisting of 12 local performers who have little or no experience of Shakespeare, either as an audience member or a performer, this year's Shakespeare Nation project will see our company performing in Henry VI: Rebellion at the RSC alongside a professional company of actors. Each week they have been rehearsing their part in the play as the people of England before stepping into the full production in Stratford. As the performance approaches, we caught up with the group's director Callum Donnelly to hear how the rehearsals have been going…
Introduce yourself!
My name is Callum and I'm a Creative Practitioner at The Marlowe and I've been assigned to the Shakespeare Nation project as the practitioner/director. I'm leading a group of 12 local people from in and around Canterbury, who are playing a number of roles within the show at the RSC.
How have rehearsals been going?
Rehearsals have been great! We've got a really varied group of people. But I think the biggest achievement is how well they've all gelled together, and how much the play, despite being hundreds of years old, has resonated with them. During the crowd scenes at the end, the people who are rebelling are described as "men of Kent", so, arguably more so than some of the other theatres involved in the project, we've got more of a stake in the story, if you will!
You're rehearsing one of Shakespeare's history plays in The Kit – a building steeped in history – do you feel that's helped the Canterbury cast explore the play and get into character?
We're so lucky to have The Kit as a building and it's something that when we've had visitors from The RSC they've really been in awe of it. It's so different to the kind of buildings that other theatres have. We've been rehearsing in The Great Hall, where we have the old flagstones, and that's very atmospheric. But also the fact that we've got the balcony around the edge is great because it's really encouraging our participants to think about sharing their gaze and looking upwards – bearing in mind that they're going to be on stage in front of potentially 1000 people. It's been really good in both the performative aspect as well as an atmospheric context.
Henry VI is famous for its number of characters – how have you been approaching this in rehearsals?
Essentially I've been doing some quite incredible multi-roling! It's quite difficult because, particularly in the main scene where our 12 participants have lines, there's quite a lot of actors moving around them who are not in our rehearsals. I have had to watch videos and discuss with the directors how these people are moving and where they're moving. Then I've had to be walking around the space, becoming those different characters, so our participants have something to act against.
We've also just been thinking about character. I think character is so important because there is a lot of conversation and dialogue in the play that some of our participants are not necessarily involved in. But you've still got to maintain a character! Whoever you are on stage is going to have an opinion on what conversation is being had. So we've really had to work on maintaining character and being an interesting part of the overall painting of what's on stage, without drawing the focus.
Henry VI is described as a 'state of the nation' play – how do you feel the play and what you've been doing in the rehearsal room speaks to our 21st century world?
It's becoming more and more applicable to the rest of the world as the days go on – I don't need to go into details on why. But this is a play about people who are oppressed fighting back. It's a play about people in power with lots of ulterior motives, and those ulterior motives being hidden from everyone else, or certain other people in the play. It's a play about the loss of faith – or particularly what we're doing in the show is about a loss of faith – and a challenging of faith. And obviously that's all applicable to the wider context of world politics.
One thing I've really been enjoying looking at is our scene, which is about a character who is trying to essentially con people out of money. I've been watching a lot of TV shows and listening to a lot of podcasts about con artists – and there seem to be a lot around at the moment, The Tinder Swindler being one of them. That's been really good to feed into Chrissy's role who's playing the lead role in that scene (Saunder Simpcox), about how it doesn't matter how intelligent or well educated you are, anyone can be taken in by a scam.
Shakespeare Nation is a project for people who haven't encountered Shakespeare or performing much before. Do you have any advice for someone who might be reading this and would like to start performing for the first time?
Just give it a go. We have people in our cast who have performed professionally before, we have people in our cast who have never set foot on a stage before. Under no circumstances should it ever be intimidating to come into a theatre, to come into a rehearsal room. Theatre is for everyone. And I guarantee that those people who are completely new to performing would say exactly the same thing. Maybe there was an element of intimidation when they were going to sign up – certainly an element of nerves – but I'd like to think that more experienced members of the cast, us as a team at The Marlowe and also the team at The RSC are incredibly welcoming and incredibly grateful that people would give up their time to be part of this. So just give it a go!
Henry VI: Rebellion is running at The RSC with our Canterbury company from Wednesday 18 May to Friday 20 May. Tickets are available here.