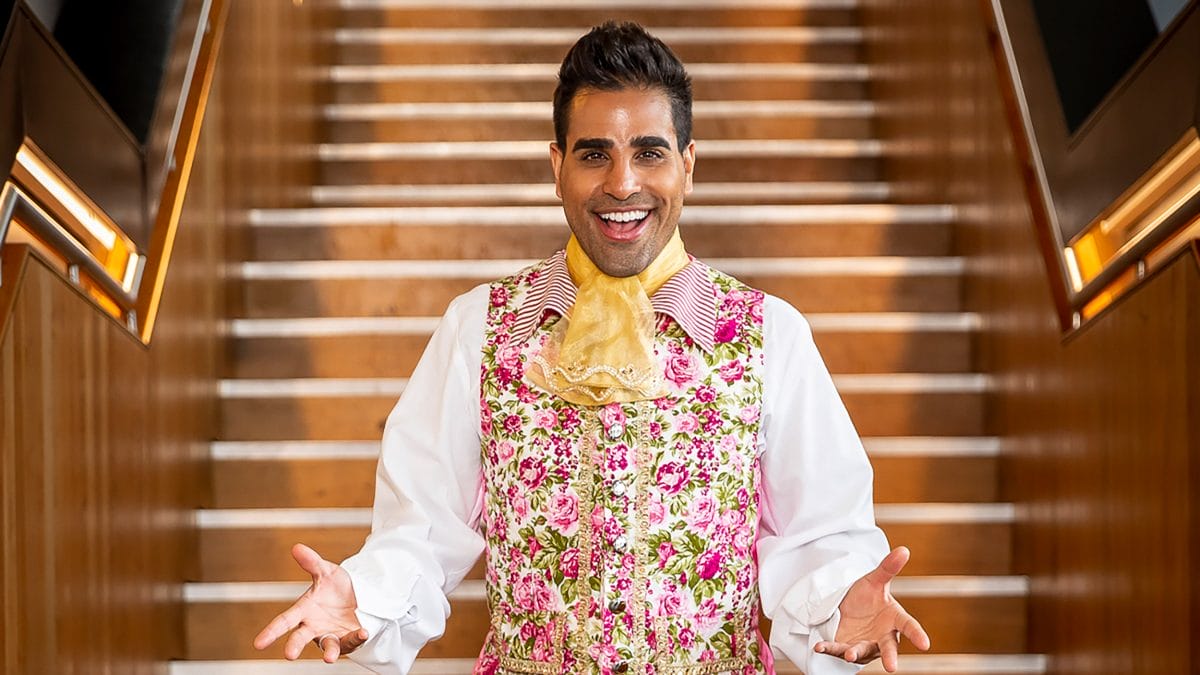 Panto magic in store for Dr Ranj
Wed 13 Nov 2019
Rehearsals for Mother Goose start this week. We sat down with TV's Dr Ranj to talk about appearing in Panto for the first time and why performing at The Marlowe feels like coming home.
You're performing in Panto for the first time this year – what are you most looking forward to?
It's my very first Panto so I'm very, very excited and nervous. I'm looking forward to throwing myself in and getting to experience a part of that Panto magic. It's such a special time of year, it is a Christmas tradition in the UK and we have some incredibly talented actors and performers in the show. I just want to be amongst them and learn from them and have fun. That's what I'm most looking forward to.
You grew up in Medway, how does it feel to be coming to Canterbury to perform at The Marlowe Theatre? 
It feels like coming back home. Obviously I grew up in Kent and I spent a lot of my formative years there. It's got such a rich history and The Marlowe is part of that. It's nice, having gone to London and spent so much time there, to be able to come back and do something back home and see people from where I grew up again.
Tell us a bit about the story of Mother Goose and the character you're playing?
It's a classic tale. It's a very old tale that's been done in pantomimes time and time again. It's essentially the story of a lady who wants to be beautiful and successful and rich. She's gifted a goose that lays golden eggs and she's duped out of giving that goose up under false pretences. She realises that actually all those things she wanted don't really matter, it's more about having loving people around you, friendship and support. The relationships you've got with people around you are far more important. Obviously there is a journey to get the goose back and it's going to have lots of humour, music, songs and jokes. I get to play the part of Charlie, who is one of her sons. It's an exciting role. I'm not quite sure how I'm going to play it just yet, I'm still having a think about it, but I'm definitely looking forward to it.
Will you be putting your singing and dance skills to use in the Panto?
Definitely. There's lots of songs in this show, some of which I'm a massive fan of, so I'm really excited to perform those. People haven't really heard me sing and perform in that sort of context, so I'm looking forward to showing them that side of me. Also there will be a bit of dancing in there, there's a very special Strictly-esque routine coming and who knows, I may even break out some of my Strictly costumes!
Why should audiences come and see the show?  
Pantomime is one of those occasions and events that the entire family can enjoy together. It's got something for everybody. It's a really fun day out. At the same time it marks the festive season and for a lot of people it is part of their Christmas tradition. If you come and watch the show you're in for a real treat, you'll see some incredible performers, some of whom are Olivier and Tony award-winning performers. You're going to have so much fun and you can get involved in all of the fun that we're going to have together.
Mother Goose: Thursday 28 November to Sunday 12 January.