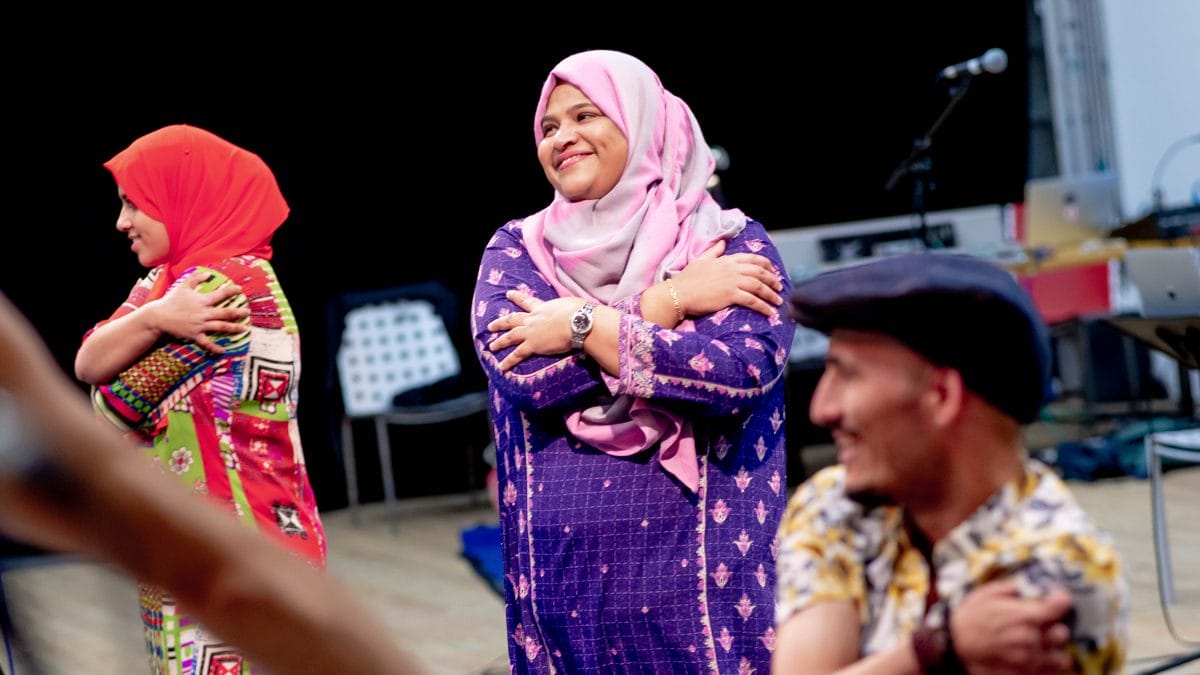 Our resident company PROJEKT EUROPA have launched a new project for first generation migrants based in Kent
Mon 25 Apr 2022
The Marlowe's resident company PROJEKT EUROPA have launched a brand-new project that is taking place in The Marlowe Kit.
The company is inviting first generation migrants in Kent to take part in PROJEKT ENCOUNTER, with a series of playful and exploratory workshops that will see local residents collaborate with a professional theatre maker.
We'll be following the progress of the project and we began by speaking to company producer Katie Clark and workshop facilitator Matthew Hahn about what's in store.
Can you tell us a little bit about PROJEKT ENCOUNTER?
Katie: PROJEKT ENCOUNTER is specifically for first generation migrants who are based in Kent, who don't have any, or a lot of, previous experience of the theatre. We want to celebrate the multiculturalism that is in our society that is often quite invisible and to really dial up the visibility of people who we are shoulder to shoulder with, which is not reflected in the theatre that we often see.
It's also a way of starting conversations and sharing stories because I think that often people come to theatre and think it's about pretending to be somebody else. Sometimes stories start with those conversations about understanding other people and crossing cultures, and I think in understanding others, then we start to tell and reflect those stories of all of us, as opposed to a single narrative.
Matthew: The first three quarters of the project will look at generating material, in the last quarter we'll take what we've created and start to think about a piece of theatre and then there'll be a showing at the end of it.
Can you tell us a little about what the workshops will be like for the people who take part?
Matthew: The overarching thing is to make sure they have fun and enjoy themselves. It will involve typical icebreakers and getting to know each other, letting them reveal a little bit about themselves, whatever they're comfortable with. There will be a vocal warm-up and a physical warm-up because they are engaging in a theatre group.
Then asking the group questions, but always with the caveat that you reveal as much or as little as you want to and that, if you want to reveal that's great, but you don't have to perform it.
It's creating a safe space based on rules that we've all created and then generating material from that and eventually fine-tuning that into a piece of theatre.
What is the aim for the end of the workshops – you are creating an informal ensemble, what do you think that might be like?
Matthew: It will be a theatrical piece based on the stories that have been generated over the past 19 weeks, very much co-created with the group. I look at my job as creating a framework, I'm bringing in theatre structure to their stories.
People are very creative, and they'll figure out ways of telling their stories that are creative and interesting and my focus will just be to edge them towards the theatrical.
What do you hope the long-lasting impact of these workshops will be for the people who participate in them?
Katie: I would really hope that it would be the start of a relationship for those people taking part with The Marlowe and with PROJEKT EUROPA, so that we can work together on a regular basis and that relationship grows and builds and develops and thrives and is entirely inclusive.
I hope that we can work together on other projects, so that projects that PROJEKT EUROPA are working on or other resident companies when they come, have those brilliant offers to people who want to carry on that involvement.
The PROJEKT ENCOUNTER group meet every Wednesday (until Wednesday 27 July) between 6.30pm and 8.30pm at The Marlowe Kit (in Stour Street, Canterbury). Places, which are free of charge, are still available and anyone interested in taking part should contact Katie Clark from PROJEKT EUROPA by email. Participants are not required to be available for every session and support is available with interpretation and travel.