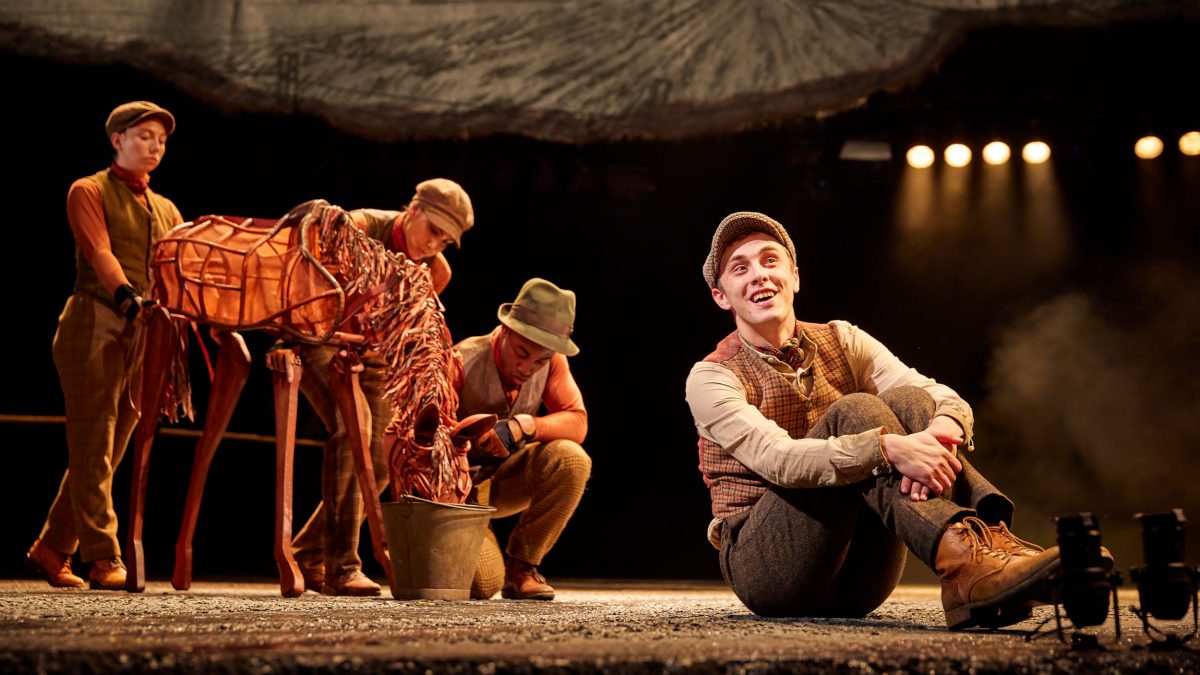 Horsing around
Mon 18 Feb 2019
Ahead of War Horse's return to Canterbury, we talk to Scott Miller, who plays Albert, the boy who goes to war to try to find his beloved horse Joey.
For people who are coming to War Horse for the first time, how would you sum up the story?
At the start of the play it's about a boy called Albert and his dad, who buys a horse in a bet. The first act is about Albert and the horse Joey becoming really good friends and growing up together. That's the theme that runs through the first act – Albert and Joey's journey to becoming a man and a fully-grown horse respectively. Then the First World War breaks out, Joey gets taken away and Albert goes off to war to find him. That's how I'd sum it up without giving too much away.
Why do you think it resonates so strongly with audiences?
I think it's because it doesn't glorify war and it doesn't romanticise it. It's a play that's set during the war but it's not really about that – it's basically a love story between a boy and his horse. In rehearsals we've talked quite a lot about how it's almost like there's an elastic band connecting Joey and Albert throughout the play. At the start it's quite close together, it's not pulled apart, but as the play goes on it's stretched and stretched and stretched. The audience goes on that journey; they're getting pulled along.
How does it feel to be the lead in such an iconic production?
I feel really lucky to be part of it. It's my first theatre job outside of drama school so it's a really big one to get. Working with so many amazing people and so many talented individuals, I'm learning a lot from them. It's a real privilege and an honour. It's nerve-wracking in the sense of getting butterflies and stuff but I don't feel overwhelmed or out of my depth and I think that's down to the team we work with. We're all very supportive of each other and also I feel very comfortable in the part and really connected to it.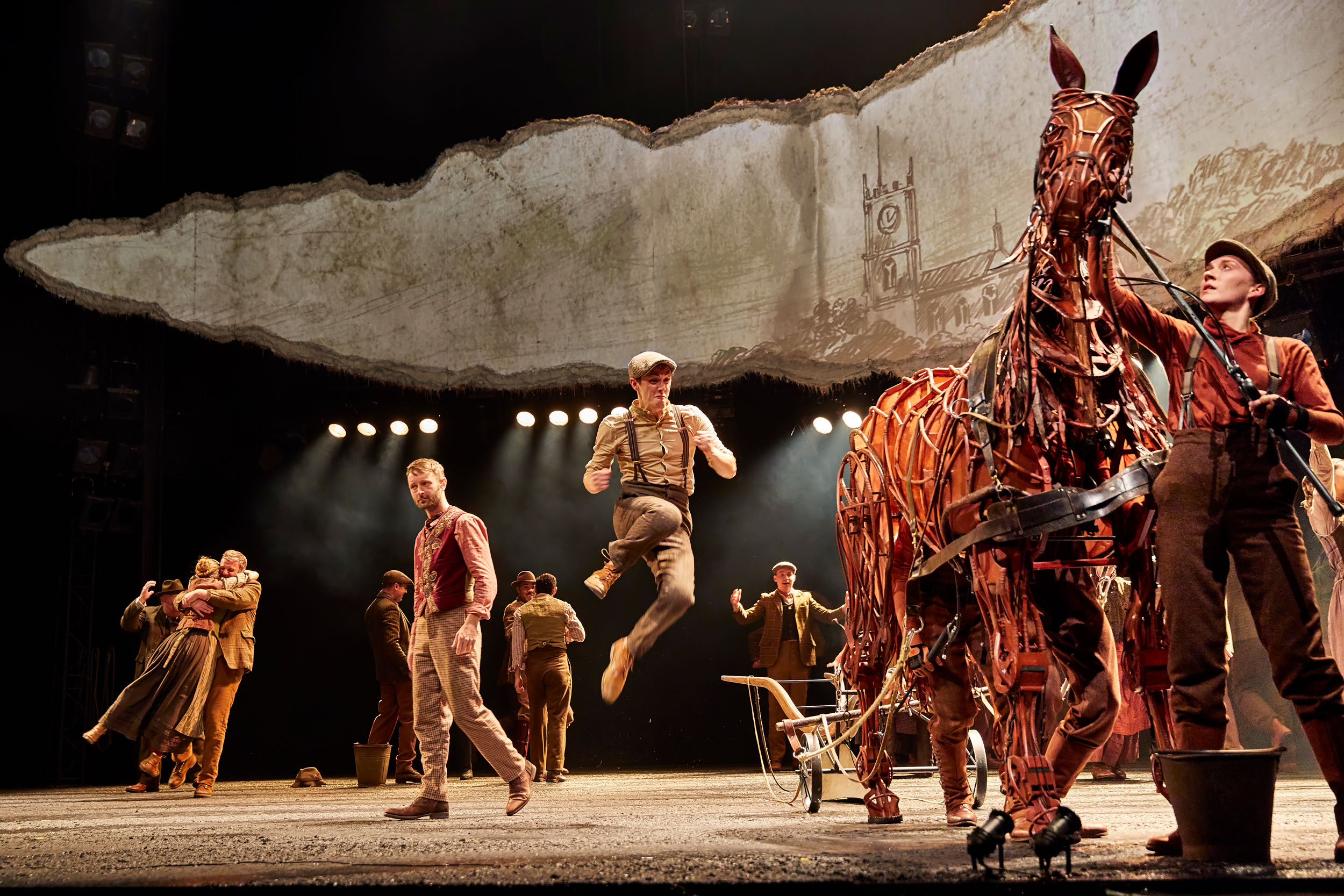 How would you describe Albert as a character?
[Laughs] He's a bit weird at the start. He doesn't have any friends, he's just got this strong connection with a horse, so he's a bit of a character but he's loveable and he doesn't have a bad bone in his body, I don't think. He's just a very honest individual.
Are there ways you can relate to him?
I think I relate to him in the sense of trying to find the good in everything. He's got a drive about him and I think I've got that myself – that drive to push myself as far as I can go. I'd never been on a horse until I got this job but all of us who ride horses in the show went to a stables in London where we got to ride horses, talk to some of the groomsmen and learn all the stuff that goes with that, which was great fun and also really helpful in preparing for the role. We've also researched different aspects of horses, like why a horse will look to the left or look to the right in certain situations and why it's good to back up towards a horse so as not to be threatening, to be a smaller and calmer presence and not to walk behind them. It's been interesting learning details like that.
What physical and emotional challenges does the show present?
It's a very physical show. It's very rewarding, but all the characters and animals go through such a journey, it's demanding on the actors who play them. I also have to do a running jump onto the horse, which always takes that extra bit of adrenaline to get you up there. Emotionally, again without giving away too much about the plot, Albert almost gives up hope of ever finding Joey again and he's a broken man towards the end of the play. He goes from being a young boy to a broken man and then… [laughs] well, I won't spoil things by saying anything more.
The puppetry in the show is so brilliantly done that audiences feel the animals are real. Is that the same for you as an actor?
I'm completely in that world and I don't think of them as puppets at all. I do believe Joey is a horse and I have to in order to connect with him. Also the amazing puppeteers have spent so long working on those tiny little details to make it all completely believable.
What lead you into the profession?
I went to the Scottish Youth Theatre and really enjoyed my time there. After that it all just kind of fell into place. I ended up getting a theatre job in Scotland, then I went to drama school. This is my first theatre job after LAMDA. I've done some filming for a movie called Balance, Not Symmetry that should be out later this year but this is my first theatre job since drama school. I did do a tour before I went to LAMDA with the National Theatre of Scotland, in a play called Dragon, so I've got some idea of how it goes but this is on a much bigger scale. Travelling the world and getting to go to places like Hong Kong and New Zealand, as well getting to explore the UK more, will be really exciting as well as sharing this story with audiences. It's a lovely story.
What's the one thing you couldn't be the road without?
If you'd asked me that before I'd probably have said my PlayStation 4 but now it has to be my steamer, which helps with my throat after each show. It's been a life-saver.
Do you have any pre- or post-show rituals?
No, nothing at all. I think I'd get scared if maybe one day I couldn't do it so I change it up every time.
War Horse: Wednesday 27 February to Saturday 16 March.