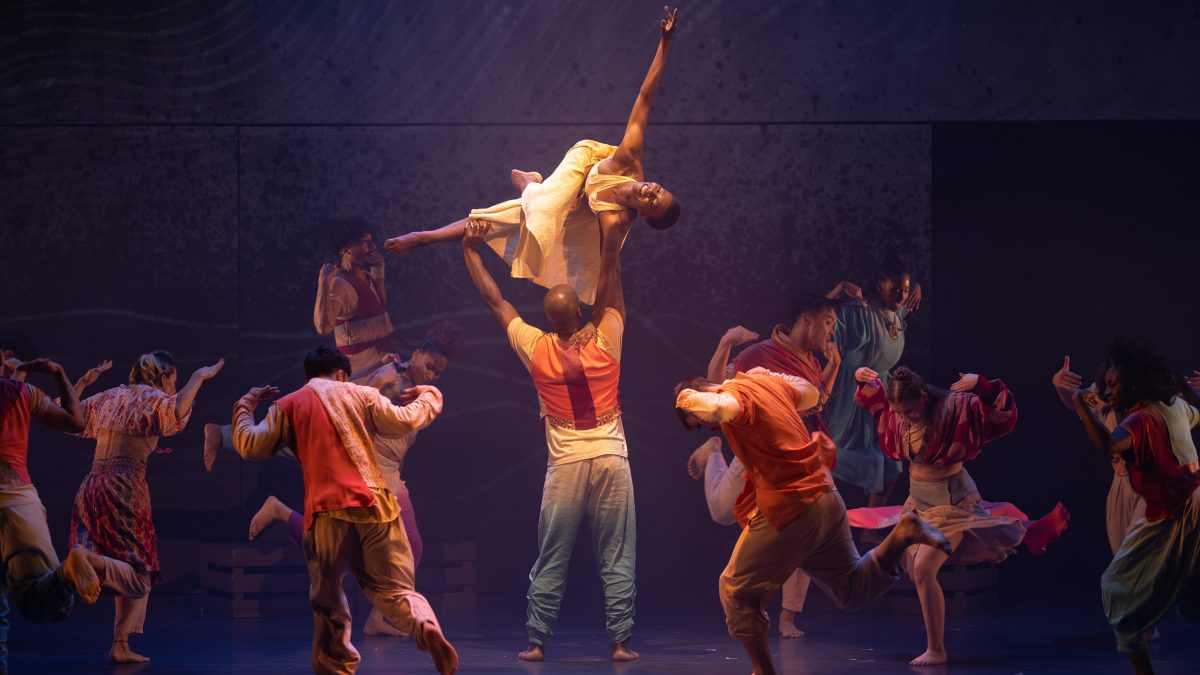 Creating Message In A Bottle: An Interview with Kate Prince
Mon 3 Jul 2023
Message In A Bottle is a spectacular new dance-theatre show from five-time Olivier Award nominee, Kate Prince to the iconic hits of 17-time Grammy Award-winning artist Sting, including Every Breath You Take, Roxanne, Walking On The Moon and more. With a mix of exhilarating dance styles, high-energy footwork and breath-taking athleticism, Message In A Bottle tells a unifying and uplifting story of humanity and hope. Director, choreographer and artistic director of ZooNation Kate Prince discusses her inspiration for the show and what went into creating this show.
Firstly, can you tell us a bit about your inspiration for the show?
I think once I knew it was a possibility that I might be able to use Sting's catalogue of music to tell a story, we did our first workshop where I interpreted six different songs and tried some ideas out. Within that workshop, it felt like this story of a broken family and going on a journey and it quickly became linked to ideas of mass global migration and refugees.
Once that seed was sown, it was remarkably easy to jigsaw together all of his amazingly diverse songs with such different topics, poetry and styles, and actually form this story about refugees.
Listening to Sting's music and loving it all my life, I never knew that when I was going to try and tell a story, it would be something that was quite so vital and horribly sad. But also I know the show is ultimately incredibly joyous and a celebration of love and family and all that the human spirit can endure and how resilient people are.
How does it feel to be working with Sting and his music?
From the first time I met him, he's always been the most down to earth, friendly, kind, and just a lovely person. Particularly making dancers feel really comfortable and appreciated.
He has not stood in the way of a single one of my ideas, of how I could translate his music. He's been incredibly trusting, which is weird for me, because I'm a superfan who went to see him at Wembley when I was a teenager. He's like a global superstar and now I get to put his music on stage.
What is your process when devising a new show?
Since I've become a mum so much of my process has been at a desk rather than in a studio. All of Message In A Bottle is written up as a story, a story that no one will ever read, but it's written for me and for the company and creatives to try and understand this fictional world that we're making, who these people are, and give them some motivation for their choices.
It's also in my imagination. I listen to the music, and I scrutinize the lyrics and then I imagine it on stage, and if I can see it in my head, then I'm like, that's all I need.
So, it's all on paper and it's structured, and then I set it out on stage, not as dance but as actors moving around the space. Once the structure is there, then I start turning it into actual steps and choreography and trying not to lose sight of the structure.
Is it important to you that the real-world issues are reflected in your work?
I think every production that I've ever made, whether I've intended it to initially or not, has always ended up in a really prominent way being about something that's current and real, and people are experiencing.
Everything we've made has been about something that's true and important to me. Hopefully not in a preachy way. Always trying to do it in an entertaining way. I don't want dance to be about nothing. I really don't like abstract dance. I struggle with that. I want a real intention of meaning.
How does it feel to have Message In A Bottle return for such a significant tour across 2023/24?
It's a bit of a dream, to be honest, to be going abroad with this work. To think, that I could go to the Sydney Opera House in Australia, where I've never been before, and actually my name would be somewhere, like a little show that I've made up – that's amazing.
In the UK we're toured twice with ZooNation and had young people from all over the UK who've trained with us. Growing up near Southampton, I didn't have access to anything like that and I wish I'd been taken to stuff like that when I was younger. Going to a theatre is such a privilege, so hopefully we're making this kind of work more accessible.
And what's it like sharing the work with audiences?
I love watching audiences watch Message In A Bottle. They have this double reaction of loving the music and loving Sting's work and realizing, even for some people who might not know every song, how much more of the music they do know and how much it's been in their lives. And then watching audiences watching those dancers, you get the sense of 'how they are doing that?' and 'how are they are still going?'
What I like about our company is it's about how different each of them are. I hope that means that more people can see themselves on stage and they can also have a life of being a storyteller on stage, being a dancer if they wanted.
What would you say to someone about coming to see a dance show for the first time? Why is Message In A Bottle a good choice?
With Message In A Bottle, I would advise people to come with no expectations, no preconceived idea of what it is they come to see.
When I was at the Olivier Awards, I was grabbed by a very nice lady who had brought her husband to see the show. He wanted to talk to me and He was like: 'I hate musicals and I hate dance shows. My wife always wants to go, and I never want to go.'
But this show completely transformed and changed his mind. He loves it. He wants to see it again. He's obsessed by it. He didn't know things like this existed. He didn't know that he could feel this way. He cried and he doesn't know why he cried because he would never cry at something like that.
The dancers are incredibly talented. Was it hard to find dancers with such a wide range of expertise?
Yes. It's always really hard. There's a certain degree of skill exchange that happens throughout the rehearsal period and during performances. It's impossible to find a breaker who's a world class contemporary dancer. They do exist, but it's rare.
We have always taken dancers on the basis that their training continues whilst we are in rehearsal. Some of the stronger breakers will spend time with a ballet or contemporary trained dancer and help them learn. And equally a ballet or contemporary dancer will help breakers learn to turn and jump, have lines and all the rest.
Message In A Bottle contains many different styles of dance. How do you put together all of those different styles in one show?
There's a contradiction in my mind when it comes to talking about dance. On one hand, I don't think any dance should be pigeonholed, and on the other, I think it's so important to understand the history and foundations of every style of dance and to train yourself in those styles so that you can be authentic and honour the style.
Art in itself has to be an expression of freedom. If something is expressing freedom, you can't apply any rules to it, which means, dance is sacred, and you should be able to do anything you want with any dance.
It is a battle I have in my own mind because I can tell you there are hip hop foundation styles in the show, and there's some more classical shapes and balletic moves. There's a massive breadth of dance. And at the same time, there's nothing but one thing and it's just dance.
If it's all dance, then what's dance at its essence?
I think dance is an expression of self where words aren't sufficient. I think dance is something that every single human being is capable of. Our instinct as babies and children, when we hear music, is to dance. I think society educates us out of being able to dance. And that's really sad, because it's the most lovely, free, joyful expression of being alive.
Message In A Bottle runs from Tuesday 4 to Saturday 8 July and tickets are available here.