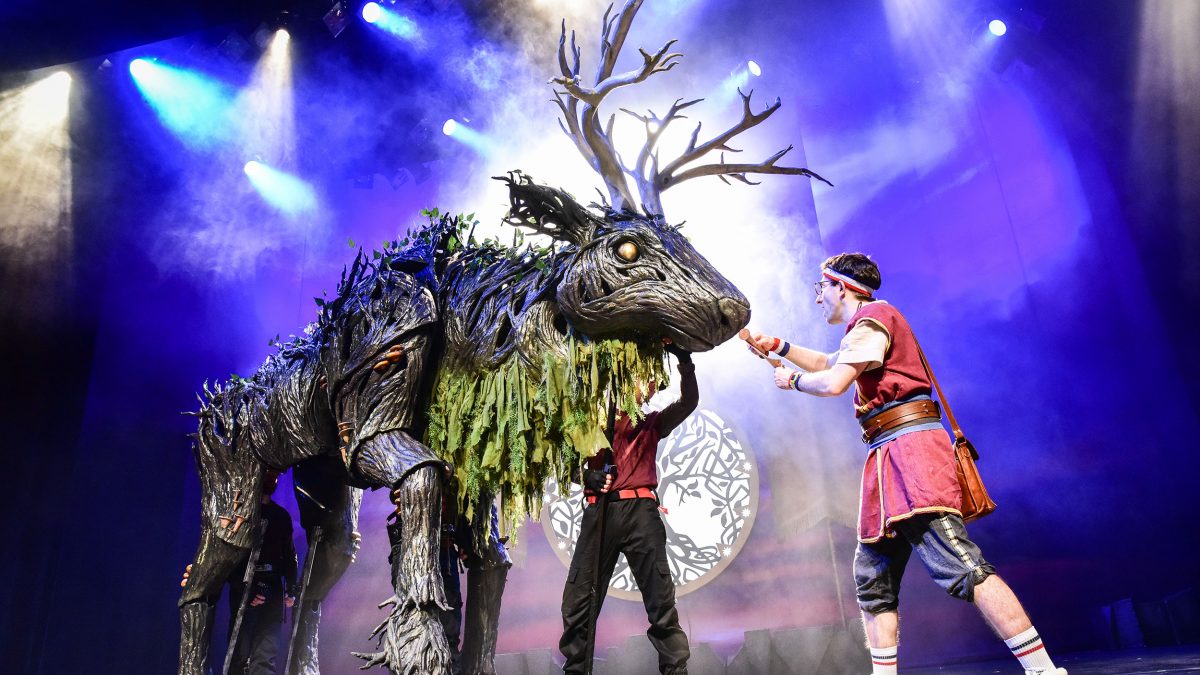 Bringing Dragons And Mythical Beasts to the stage
Sun 7 Aug 2022
Dragons And Mythical Beasts will be performed in Canterbury from Tuesday 23 to Thursday 25 August, featuring mythical creatures from around the world. Ahead of the show's arrival at The Marlowe, writer and co-director Derek Bond talks about the process of bringing myths, legends and fantasy stories to the stage.
There's a whole range of creatures from famous myths in the show, some more familiar than others. How did you go out about choosing which beasts to use?
We knew we wanted a dragon and a unicorn, then Max Humphries (the puppet designer) and I went on a deep dive of research into other mythical creatures from around the world. We wanted a range of creatures that weren't all just terrifying, and that have different powers and shapes.
Where did you get the inspiration for the storyline, and how did you go about developing a script for a live theatre audience?
So many hero stories involve a hero killing mythical creatures: Jason, Perseus… Heracles has to kill one creature after another. I wanted to create a story that could show there are other heroic qualities, not just violence. One that could make everyone in the audience feel like they've been on an adventure and become a hero themselves. So I started thinking about Chiron – the centaur in Greek myths who trained all the famous heroes. But we don't want our host to be the blood-thirsty type. And Dave just arrived – Chiron's son, who has never been comfortable with his Dad's violent methods, but has gone along with it because it's the way it's always been. Then he learns there might be another way.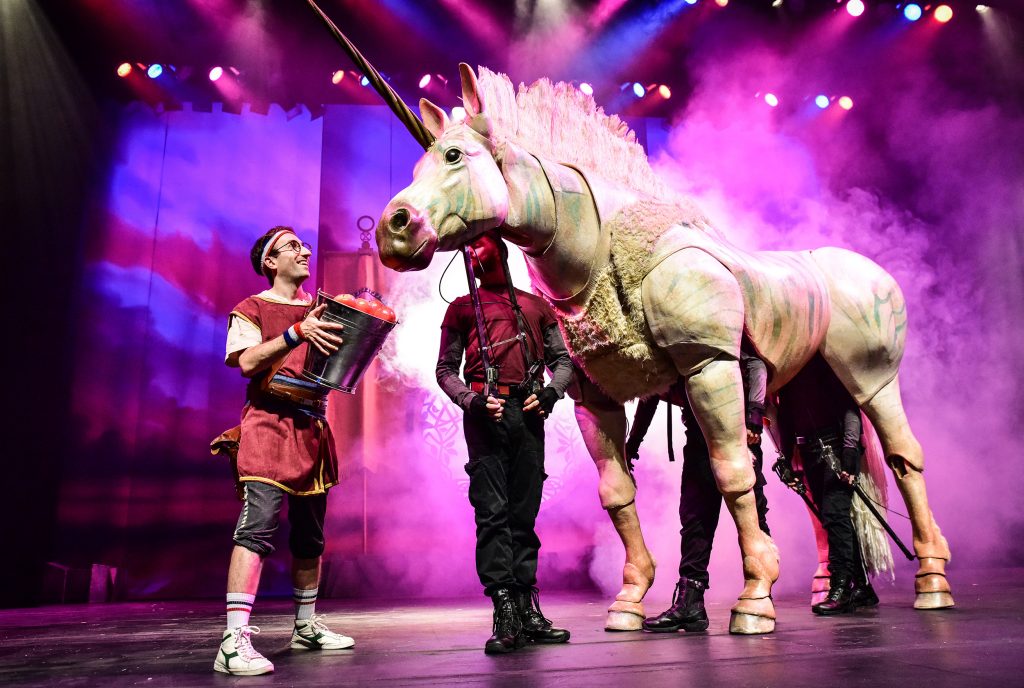 Not only the writer, you also co-directed Dragons And Mythical Beasts with Laura Cubitt. How do you two work together?
Laura is a fantastic puppet and movement director – she is expert in helping the puppeteers to bring the creatures to life. I might suggest a "beat" of the story that we need to tell, and then we will break that down into the creature's thoughts, and then Laura breaks that down into how the puppeteers should move the puppet. Some of the puppets are like four blindfolded people all driving one car – one has the steering wheel, one has the accelerator, etc – so you need someone to see the whole picture from the outside and give useful, clear information to the puppeteers. And we both weigh-in on all decisions about the show – it's rare we disagree, but when we do it's because one of us has a better idea, so the show is better than it would be if there was only one director!
What excited you most about working on this show?
The opportunity to bring my love of myths, legends and fantasy stories to the stage, and maybe make a show for the child that I was: big imagination, wanting to be a hero but not feeling like I could identify with the heroes I read about. I'm obsessed with The Lord Of The Rings, Norse myths, Dungeons And Dragons – we've been able to bring a lot of that into this show. And, of course, the chance to work with the wonderful Dinosaur World team again.
Do you have fun facts about the beasts that you can share with us?
The Stone Troll was inspired by the book and Netflix series Hilda, as well as Terry Pratchett's Discworld series. The Griffin first appeared as a character in Max Humphries' ongoing Dungeons And Dragons game. When thinking about Shimmer's attitude, we talked a lot about pop divas like Mariah Carey. The Tooth Fairy's wings are made of silk, printed with a watercolour design painted by Max's father who is an amazing illustrator. The legend of the Baku was the inspiration for the Pokémon character Drowzee. Juno the dragon is named after the chief Roman Goddess, who is the equivalent of the Greek goddess Hera, who appears in many myths about heroes. The Indrik is an amalgam of several different creatures – the Indrik is an Eastern European or Russian creature, usually more like a rhino with a huge horn; but ours looks more like a Leeshy – a giant elk from Celtic mythology, or like a character from the Studio Ghibli film Princess Mononoke. The Indrik has an important job in our story – it only appears when there is an act of true heroism.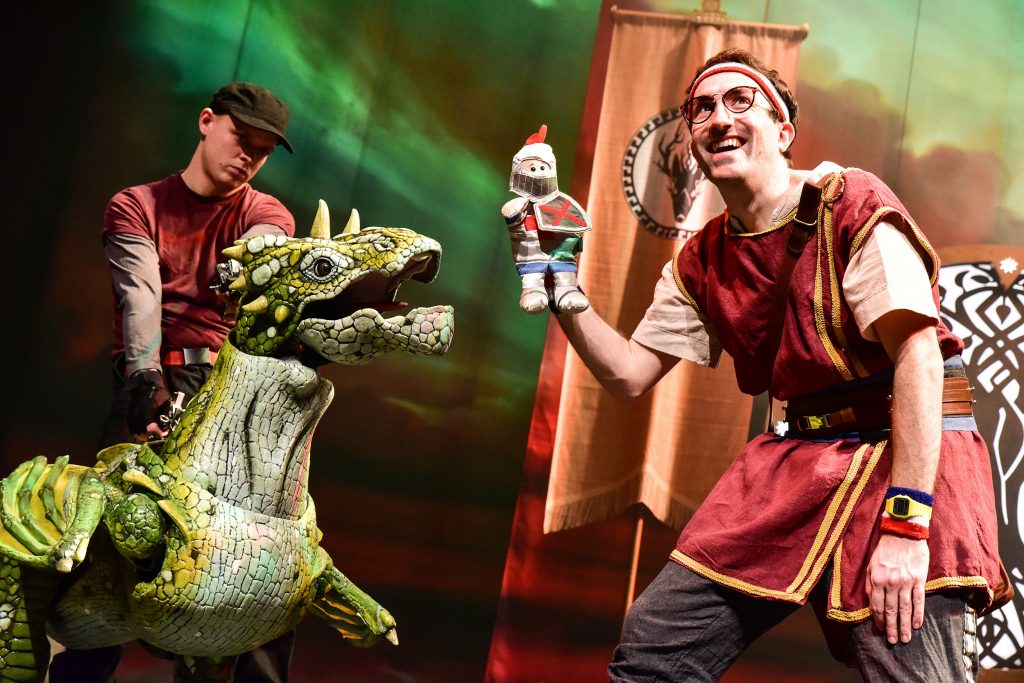 What do you hope audiences will take away from Dragons And Mythical Beasts?I hope that audiences feel inspired by it – maybe to create their own mythical creatures, or to find out more about the myths behind the creatures in the show. I hope it sparks imaginations, brings people together, and encourages them to be kind to each other.
Finally, do you have a favourite beast? (We won't tell!)
That's like asking me to choose my favourite child! When we've been rehearsing, and started working on a new creature, I'd always say "oh this one is my favourite now" – so I guess they're all my favourite!
Dragons And Mythical Beasts runs from Tuesday 23 to Thursday 25 August and tickets can be booked here.