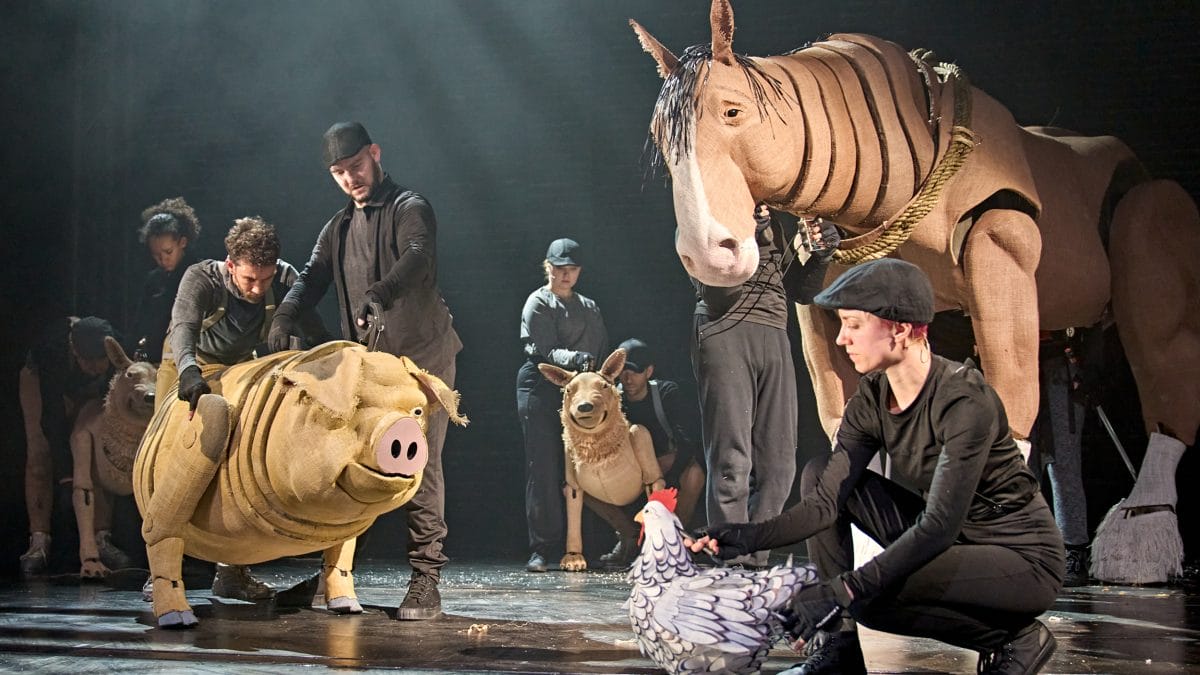 Animal Farm: An Interview With Puppetry Director Toby Olie
Wed 4 May 2022
George Orwell's world-famous political fable will be opening at The Marlowe tonight, with puppetry by Toby Olie (War Horse, Running Wild, The Grinning Man, Goodnight Mister Tom). Before the show's opening night, Toby speaks about creating the puppet cast for the production.
What are the challenges of this show?
Every character apart from the farmer is an animal. We have over 30 life-sized puppets, from huge cart horses to tiny pigeons, so it's a question of how to get maximum articulation in the puppets with only 14 operators. Boxer the cart horse will have three operators, but Clover – who we've changed from a horse to a cow – can only have two. They all talk too, which is a challenge, but we found a really interesting way of making it work: we tell the story with a sort of animal language and animal physicality but then you hear the dialogue like it's being translated for you.
What does it take to be a puppet operator?
I'm drawn to performers who have an innate sense of physical listening to each other so they can be in tune with each other on a puppet. When someone has 'puppeteer' on their CV it's no guarantee they will have that. Only a handful of our cast would say they are a puppeteer by trade. Many of them are actors, dancers, stilt walkers – they're from all walks of life. I wanted a big mix of ages, heritage – everything.
What's the trick of making an animal puppet work?
You want to immerse yourself in the language of the animal, particularly the emotional indicators like the ears, the difference in gait between a trot and a gallop. For this show, where we are telling a human allegory through animals, we have to decide what of that animal repertoire is helpful and which of their movements and reactions we need to amp up, so we are giving a very crystallised version of that idea. Helpfully animals give away their emotions far more quickly than we do. they are far more responsive, immensely emotive things to watch.
Do children respond more easily to puppets than adults?
Puppets are at their strongest when they're doing the smallest, most minimal action that really draws you in. Children, who are closer to a state of play, with toys and imaginative action, get it quite instantly. Adults expect themselves to be distanced but if the puppet is doing its thing and it is doing it well, they fall just as fast as the children.
Was War Horse a game changer for the perception of puppetry?
Definitely. Although plenty of companies worked with puppets in adult theatre, this was a big step forward into a mainstream, populist show. And the reaction to it was mind blowing: it was astonishing to see a puppet bear the emotional weight of an audience for two and a half hours. War Horse is like the puppet Hamlet: that horse doesn't leave the stage throughout the whole thing. You can see that audiences think of puppetry as part of their palette now. They get it.
How did you get into puppetry?
I watched Sesame Street before going to nursery, where puppets are within a human world and no one bats an eyelid. Then, when I was six or seven and in my Jurassic Park phase – which I'm arguably still in – I found an Usborne 'How-to' puppet book in the school library. I'd always made things in a Blue Peter-ish way but that book definitely ignited a spark that led to me putting on shows with puppets made of toilet rolls and cereal boxes behind the ironing board for my family, who were very understanding and supportive. Later, I saw The Lion King in the West End. The mechanics were exposed, and it was avant garde by musical theatre standards, but to see it taken to heart by so many people made me think yes, this is what I want to do.
What's your workshop like?
I'd like to think if you open the studio door it's like Willy Wonka's chocolate tasting room only with more wood dust in the air and glue guns. I love to keep puppets from shows in my space. I often say they are more like musical instruments than props because they're so fine tuned.
Animal Farm: Tuesday 3 to Saturday 7 May