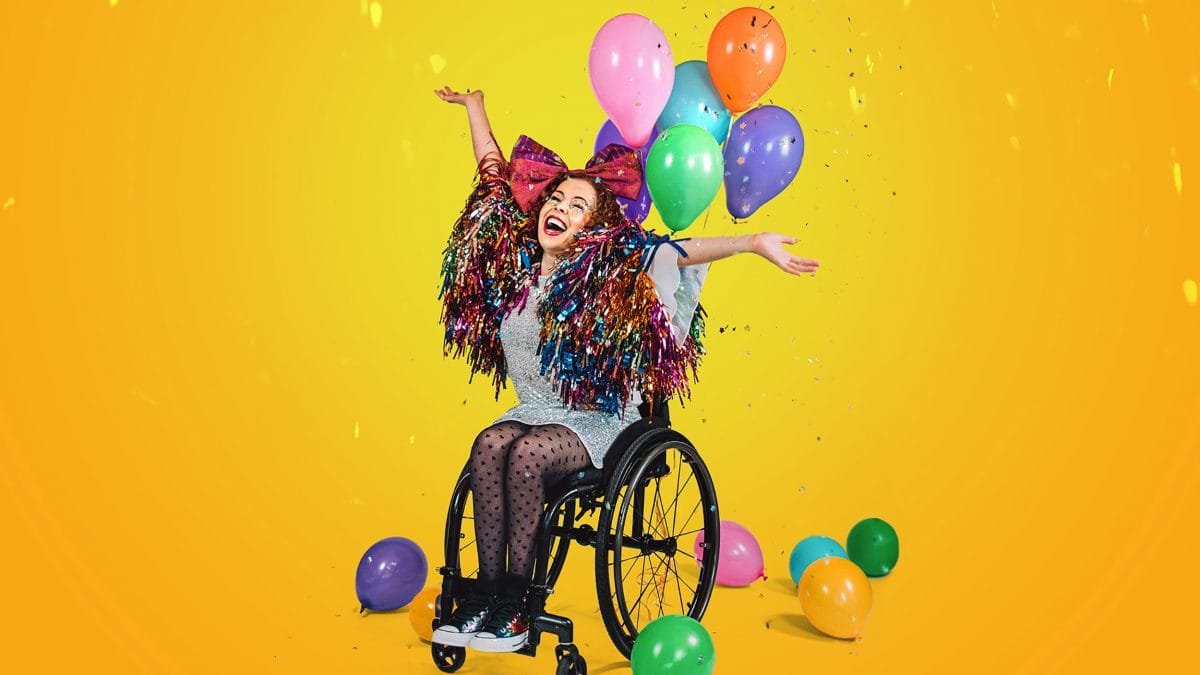 Actor and writer Amy Trigg brings her award-winning debut play to The Studio
Tue 6 Sep 2022
Reasons You Should(n't) Love Me will be starting its run in our Studio next week. Winner of the Women's Prize for Playwriting 2020, Amy Trigg's debut tells the story of Juno, who was born with spina bifida and is now navigating her twenties amidst street healers, love, loneliness - and the feeling of being an unfinished project. We spoke to Amy about creating the show and how it feels to return to The Marlowe after performing here in the 2020 RSC season.
Tell us a little about yourself?
Hi! I'm Amy. I'm an actor and writer from Essex. I've been acting since I graduated from Mountview Academy of Theatre Arts back in 2013 but Reasons You Should(n't) Love Me was my debut as a writer! For the last couple of years, I've been balancing acting, writing, hanging out with my dog (Lady – she's a poodle cross) and watching too much TV (current recommendation: Severance on Apple TV+).
What inspired you to create Reasons You Should(n't) Love Me and what was the process like?
I wrote an essay for the book Feminists Don't Wear Pink (And Other Lies) back in 2018 which really got me into writing again (I'd spent the few years before that purely focussed on acting). I started writing essays about various topics including street healers, platonic love, and disability. I found it to be a really useful way of unpacking my brain and making sense of complicated matters. Eventually those essays evolved into monologues. I merged them with some old sketches, stand-up material, and poems and eventually found Reasons You Should(n't) Love Me! The play is essentially a love letter to my younger self. Which sounds either quite sweet or quite narcissistic… let's say it's quite sweet! Basically, I was inspired to write the story I wish I'd seen when I was younger – a story of a young disabled woman who is flawed and fun and messy and joyous. It's not an autobiographical play but there's lots of me in it… because of this, I was terrified of sharing it at first. But after some encouragement, I read an extract to some mates back in 2019, and they were the ones who encouraged me to send it into competitions and schemes. Thanks friends!
What should audiences expect when they come and see the show?
They should expect a fun, honest, and heart-warming story. I like to describe it as part stand up, part therapy session – one of those fun therapy sessions where you leave with a spring in your step. I hope everyone finds a little bit of themselves in Juno and her tales of growing up.
How did it feel when Reasons You Should(n't) Love Me won the Women's Prize for Playwriting 2020 award?
Wild. I wasn't expecting it at all. The Women's Prize for Playwriting is brilliantly run and all the writers who enter are celebrated – they announce the longlist, shortlist, and finalists so it was already an exciting process. To win was an absolute treat. And to get the play produced so soon was really wonderful – and a testament to the determination, dedication and passion of the folks behind the prize. I'm so pleased we're bringing the show back for more people to see it. It's been a fun two years!
You previously performed at The Marlowe in The Taming Of The Shrew and Measure For Measure, how does it feel to be back performing your own play?
I loved being at The Marlowe back in 2020 – it's such a welcoming theatre! At the time, I'd just sent Reasons You Should(n't) Love Me into The Women's Prize for Playwriting – who'd have thought I'd be returning to The Marlowe to perform it! We had really great audiences for The Taming Of The Shrew and Measure For Measure, so I can't wait to see what everyone makes of Reasons…!
Reasons You Should(n't) Love Me will be performed in The Studio from Wednesday 14 to Saturday 17 September and tickets are available here.