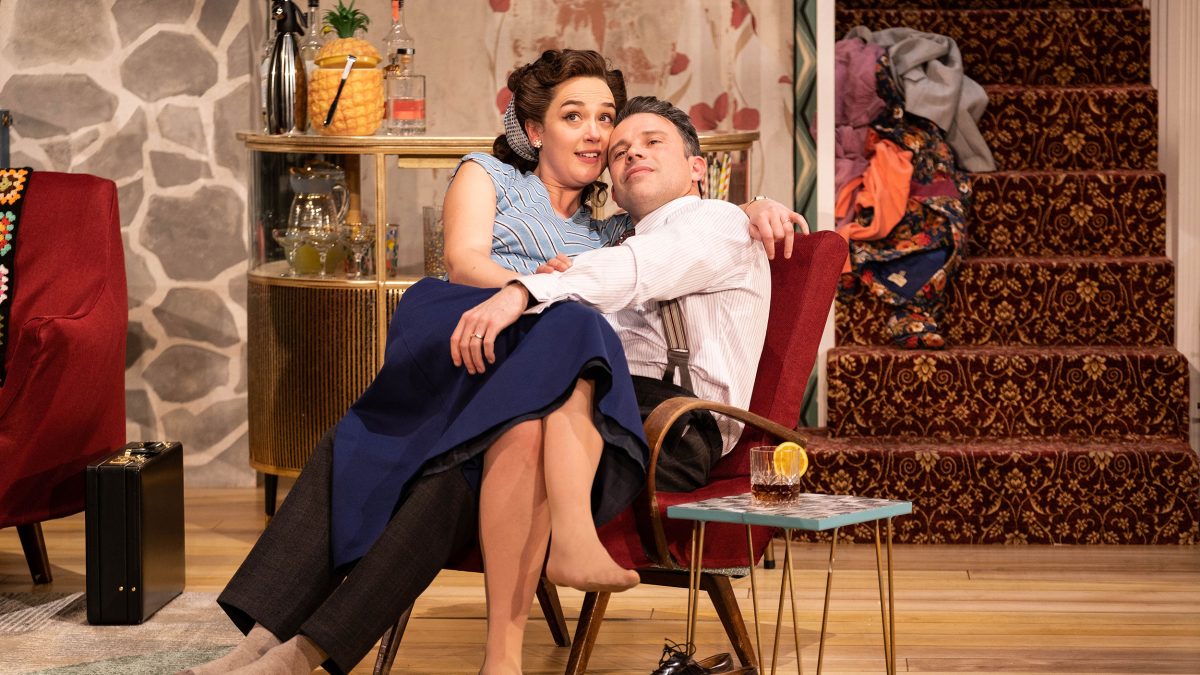 A play that 'prompts interesting moral questions'
Fri 28 Apr 2023
Winner of the 2019 Olivier Award for Best New Comedy, Home, I'm Darling will begin its run at The Marlowe Theatre next week. The show received its World Premiere at Theatr Clwyd in 2018, before playing at the National Theatre, and this production reunites the original creative team. BAFTA award winner Jessica Ransom, who will be taking on the role of Judy in the production, discusses her character and what audiences will take away from seeing the show.
For people who are new to the show, what's it all about?
It's about a couple who decide to live their lives as though they're in the 1950s. They're both enthusiastic about the era – the look of it and the ideals as viewed through the kaleidoscope of movies, with that sensibility of everything being wonderful and rosy. Judy decides to leave her job and be a housewife, making the place lovely and cooking meals for her husband when he gets home from work. They dress in 1950s clothes and only eat food from that time or earlier. She comes home from the shops and decants sugar and flower into tins, and he drives a 1950s car and wears a 1950s suit at his job as an estate agent. Basically, they have this seemingly idyllic life that ends every day with him coming through the door, her handing him his slippers and a drink and them having a perfect evening where they don't watch any contemporary telly or anything like that. But let's just say it doesn't stay rosy that long.
Can you relate to Judy in any way?
I'm in no way a domestic goddess like she is. Everything is in its place and she always looks immaculate, doing the housework in heels and full make-up. I'm lucky if I manage to do housework at all and I'm very capable of ignoring messes. I'm not in any way as domesticated as Judy is or as well turned-out but that's part of what's wonderful about playing her because I get to wear these incredible clothes and look immaculate.
Is it daunting following in the footsteps of Katherine Parkinson, who played the role at the National Theatre and in the West End?
I just see it as a fantastic opportunity. It's a testament to Laura Wade's writing, Tamara Harvey's direction and Katherine's performance that the play has been hugely successful and I'm only able to do the tour because the initial production was such a success. I didn't see that production, so I don't have a version in my head of what Katherine did, I'm just doing what feels right for me. Tamara is directing it again with Hannah Noone, who also worked on the original production, so there are loads of things we can learn from them just practically – like when to unpack the shopping and when to serve food. There's so much technical stuff in the show that we're really benefitting from their experience.
Is there anything about a 1950s lifestyle that appeals to you?
I'd love to look that glamorous all the time. There's a book we talk about in the play called How To Run Your Home and it's all so military in its precision. For example, Monday is washday. It seems that back then, if you didn't have your washing out on the line on a Monday afternoon everyone would judge you for not being a proper housewife. There's something to be admired about the precision and organisation with which these women ran their homes, although of course you have to ask, 'at what cost?'
What mod cons would you miss?
I'd miss being able to look things up on the internet and having a vacant stare at my phone. And in the play, in giving up work and choosing this position of outsider-ness from society, Judy has really isolated herself. There's a social side that she's definitely missing out on. It's the same for her husband, Johnny. He can't go for a pint after work because she's waiting for him with the dinner on the table. The two of them become a bit of an island and I would struggle with the rigidity of that.
You played Morwenna on Doc Martin since 2011. Was it sad saying goodbye to her for the 2022 Christmas special?
It was such a brilliant last series and we were there for longer because we did the Christmas special, which meant we got a really good chance to enjoy Cornwall for one final spring and summer. I will miss it dearly, but I've already booked to go back and stay in Port Isaac. I'm still in touch with people who live there and with lots of the cast and crew. The last day was so sad, but I feel really lucky to have done it for as long as I did. When I did my first series I was told that it would be the last series ever, then there we still were, 11 years later.
What have been your other favourite jobs?
Horrible Histories is my other regular gig and it's a total pleasure. We filmed two series back-to-back before I started doing Home, I'm Darling and it remains a joy to do because we've been working on it for a long time and I write on it as well, so I get to be part of the process from really early on. Then as an actor it's proper silly fancy dress, with loads of wigs and prosthetics and amazing costumes.
When were you last on stage?
Ten years ago. I did one of Laura Wade's other plays, Posh, in the West End and then I was in a play called Straight that I did at the Crucible in Sheffield and the Bush Theatre. Getting back on stage now feels scary but also brilliantly challenging. I've been in the lucky position of having these two regular jobs on TV, with other stuff in between but nothing as substantial as Doc Martin and Horrible Histories. This feels like the perfect thing to do now because it's going back to something I haven't done for a long time. I've done fringe shows and stuff like that in the intervening time but to do a play like this and to have the luxury of a four-week rehearsal period is amazing. You don't get that on telly. Plus, there are so many places we're going on the tour that I've never been to before. There's a huge privilege in being able to explore the country, visiting theatres, museums, art galleries and restaurants.
What do you most hope audiences will take away from seeing Home, I'm Darling?
I'm intrigued to see what conversations it starts. Even in the rehearsal room it has led us down various alleyways, like, 'could you live this life?' It prompts interesting moral questions, not just about living as a housewife but also stuff about work, sex and relationships. Tamara has said to me that some people come away from it going, 'it's a Brexit play,' or, 'it's about feminism.' It will be fascinating to see how audiences read it and what their opinions of it are. Also, it looks cool, the sets are amazing and there's brilliant music and dancing in it, so they're in for a great night out.
Home, I'm Darling runs from Tuesday 9 to Saturday 13 May and tickets are available here.