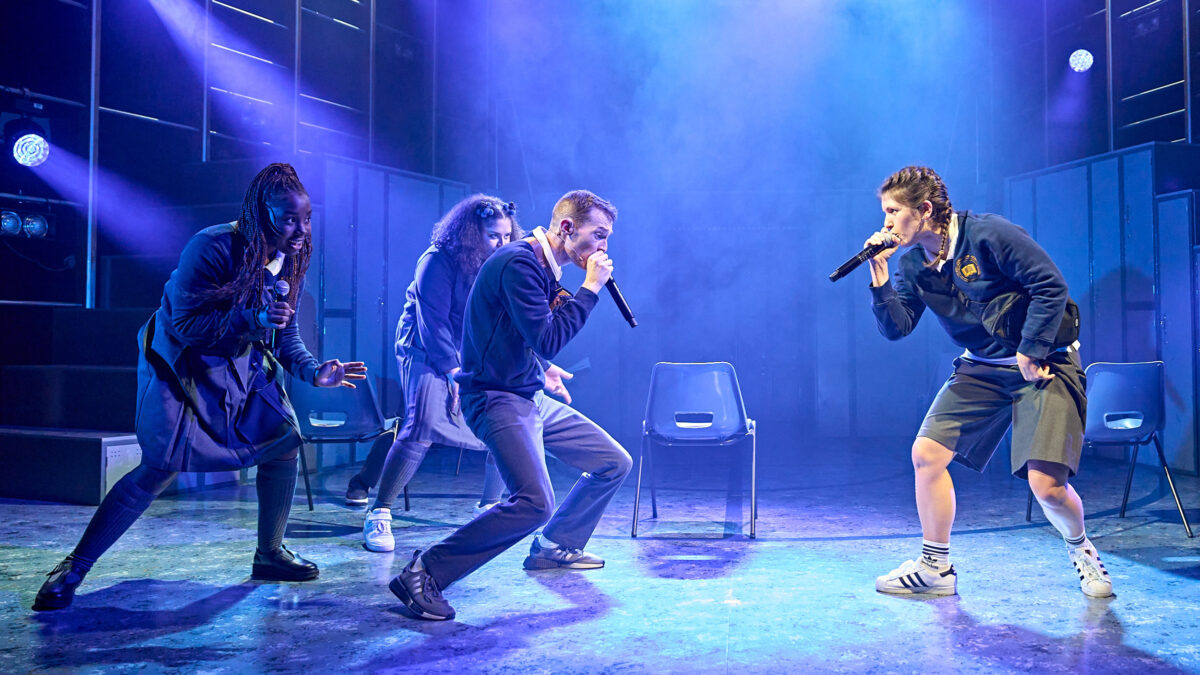 A beatboxing musical retelling: Conrad Murray and Yaya Bey share an insight into creating the music for Unexpected Twist
Tue 28 Feb 2023
Unexpected Twist, a beatboxing musical re-telling of the Charles Dickens classic Oliver Twist, will be coming to The Marlowe Theatre next week. Yaya Bey and Conrad Murray, who created the music for the show, talk about the creative process and why the musical is important for young audiences.
What lead to your involvement in Unexpected Twist?
Conrad: James [Dacre, the director] called me because he'd heard of the work I'd done on Crongton Knights with Pilot, which was a young adult book that we turned into a show with music featuring hip-hop, beatbox, grime and spoken word. He told me about this project, and I thought it sounded really exciting.
Yaya: James reached out to my management, and I was really interested in it because I wanted to try something new. I also liked the fact it addresses the subject of poverty, which is something that's universal and familiar to me because I am someone who grew up in poverty and can absolutely speak to that.
What do you see as the importance of plays with music like this one for young audiences?
Yaya: Music always helps to put a story across. Music is inviting and it makes things more approachable for people, especially in a play like this which is aimed at youth. Including music in the show makes it more relatable and it hooks that young audience in.
Conrad: The sort of music I do speaks to them and this show, which has been adapted from Michael Rosen's book, by Roy Williams, is really now. Young people will recognise the characters and the slang, and while a lot of older plays have a middle-class worldview this is very representative – with black, white and Asian characters on stage that kids will relate to. It's very mixed, with cultural references that will really resonate wherever you are in the country.
How would you describe the styles of music in the show?
Conrad: You'd call it beatbox but we're recreating genres, so it's drill, R&B, hip-hop, pop and soul. That's the mash-up and it's quite modern. Sometimes we have a nostalgic flair but it's mainly those newer sounds.
Yaya: There's a lot of hip-hop, soul music, R&B… All of those styles are in the mix.
What was the collaborative process between the two of you and lyricist Roy Williams?
Yaya: We worked separately at first, then came together with what we had. Roy did the adaptation, which we read before going off and writing songs. Roy did the lyrics and Conrad and myself did the compositions, separately as I say, which were then weaved into the play.
Conrad: We really delved into the script and there was a list of moments where the songs would be placed. There were suggestions as to who would write what and mostly, we agreed, although sometimes I was like 'Hey, can I give that one a go?' We also threw ideas back and forth about what the tone of a song might be.
Were you already familiar with the Oliver Twist story that inspired Michael Rosen's book?
Conrad: I thought I was because I'd seen the musical version as well as other adaptations, including a cartoon version that I watched as a kid. But I learned from James that there were parts of the original story that had been left out.
Yaya: I wasn't especially familiar with it, although I had seen one of the film versions. As a Black American who has only been to London once – and that was a couple of months ago to work on the play and do a few of my own shows – I must admit that I don't know a lot of British things, more the American versions of British stories.
How does the stage version of Unexpected Twist speak to the present day?
Conrad: It talks a lot about the struggles people are currently going through. There's a lot of hustling going on to make ends meet and that raises the question of morality, if they're buying and selling contraband or stolen goods when they don't have money to eat. People are being demonised sometimes for doing things just to survive. Maybe you see your parents doing what they have to do to make money and that's actually quite a heroic act but at the same time you're taught that maybe some of what they do is bad. That's quite a lot to take on board. I think young people will recognise the struggles in the play, as will adults. They'll watch and think, 'we haven't moved far from what Dickens was writing about centuries ago'.
Yaya: I think it really speaks to black audiences, it's got a bunch of hip-hop and R&B sounds, mine and Conrad's involvement, the subject matter, and the cast. But it's also play that speaks about poverty, and that is something that everyone should be concerned about. Everyone should watch it.
Is there enough quality theatre for young people?
Conrad: No, I don't think there is. I think producers sometimes can't get a grasp on what young audiences might like, so the writing and subject matter are either too soft or just aren't there. It's about finding those creative voices that young people can relate to or who understand what they might be going through. That's the big challenge. Sometimes when stories are written for young people they create worlds that don't currently exist or have never existed, like fairy tales. They may be entertaining but they're not rooted in now.
What's the importance of Unexpected Twist in that regard?
Conrad: I feel like we can push young audiences, which is what the play does. They are exposed to so much stuff now through TikTok, Instagram and blah blah blah so you can take them a bit further. It can still be beautiful, and it can still be escapism, but we shouldn't patronise young audiences. This kind of theatre is in many ways the hardest to make because they're a tough audience and they see through things. That's why Roy Williams' script is so good, because his street language feels real and always up-to-date.
Yaya: In terms of reaching young audiences, it's a good start that there is a play about poverty for them to see. Oliver Twist has always existed but now there's Unexpected Twist as a new, contemporary way to examine the subject.
Unexpected Twist will be at The Marlowe Theatre from Wednesday 8 to Saturday 11 March. Tickets are available here.