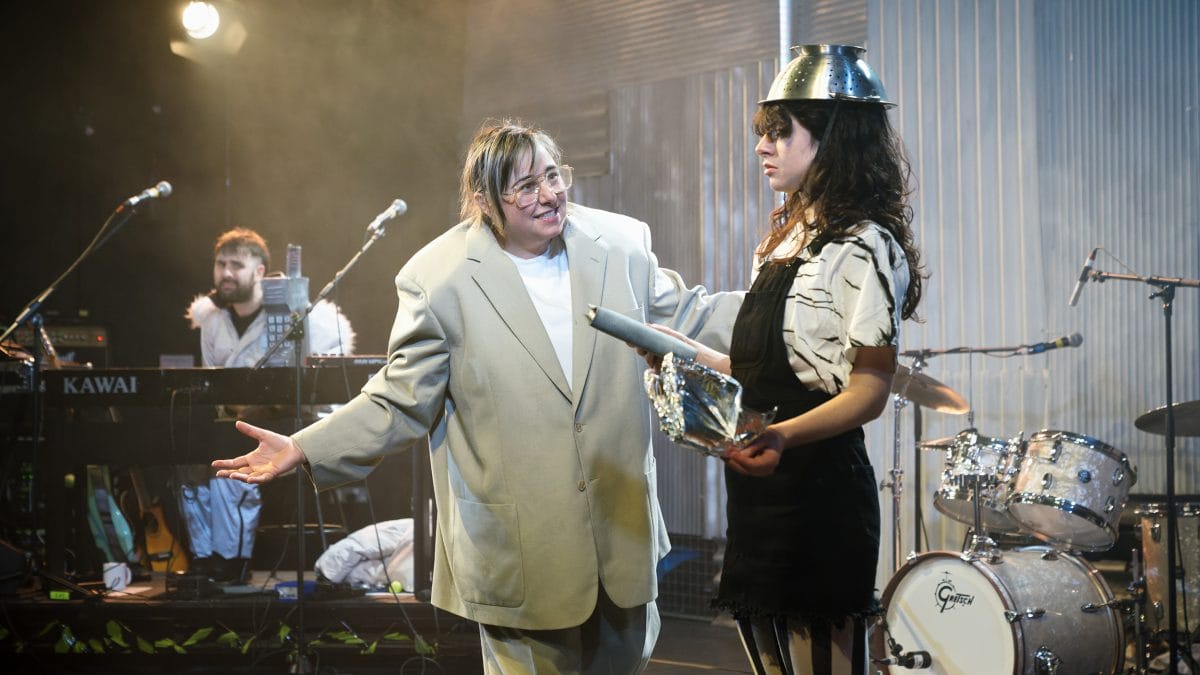 The Christmas Goblin Reviews
Tue 21 Dec 2021
The Christmas Goblin is a musical adventure of irresistible songs, banging Christmas glitter ball costumes and heartfelt festive cheer by acclaimed gig theatre makers Brigitte Aphrodite & Quiet Boy. To celebrate this festive family show opening, we got some very special reviewers in to give us their thoughts on the performance...
The Christmas Goblin was about a girl who labelled fireworks to make people happy on special occasions. Her Grandma told her about some Christmas goblins and then one of the goblins came to her house – on a mission to create chaos in the world.
Watching the show, I felt a mixture of emotions – I didn't know what was going to happen next – it was sometimes noisy, a little bit crazy, sometimes a bit rude, which was funny. Children should not do what the goblins do at home!
My favourite character was Daphne – I really liked her outfit (especially her tights – I want some like that) and when she put sticking tape on the goblin's mouth!
They had really good songs, my favourite was What Shall We Do Next. It was amazing when it snowed inside, I wanted it to snow on me.
I would say to my friends – just watch it, you will like it, especially if you like silliness.
Emily, Age 7
(4.5 stars)
The Christmas Goblin was about an 11-year-old girl called Daphne, whose Dad is the boss of a firework company. She meets a goblin who is there to learn about humanity and also ruin Christmas. At the end, Daphne also learns that her Dad does the best he can for her.
It was engaging, funny and cheeky. The live music was great, and it felt like being at a proper gig. It made me feel both happy and sad at the same time. I liked the Christmas songs, as they made me feel cosy. The songs have stuck in my head since watching it.
The Goblin was my favourite character because she was cheeky and made me laugh. I also liked the facetime calls with the Grandma, as the calls kept going wrong – which is a bit like what happens with my Grandma and Grandad!
I would recommend it to my friends and say that it is funny, emotional and makes you feel Christmassy.
Rose, Age 11 
(5 stars)
The Christmas Goblin was about a girl who had a goblin visit her house. Her dad was a firework maker and was too busy making a new firework. The goblin caused some trouble in the house and made a bit of a mess. I loved the goblin. She was so funny, and she didn't know anything. She was really naughty like my brother. I want a teddy bear goblin!
It was really fun. It was so funny, and I loved the sound of the drums. It made my heart beat really fast. The show made me feel so happy. It made me feel very Christmassy and get excited for Christmas Day. I want a firework display for Christmas.
My brother was so impressed, he sat still the whole show and kept laughing and pointing at all the fun bright things. I loved waving my shoes and enjoyed that we could be a bit naughty during the show just like the goblin. I really want to play guitar like Quiet Boy and have asked for one for Christmas. It was EPIC.
I would recommend this show to my friends and tell them it was really funny, and I even got to throw my popcorn cup on stage.
Aryan, Age 8
(5 stars)
I really liked the dancing and the drums. The drums made me jump but I enjoyed the noise. My favourite part was when they wiggled around on stage, and I liked it when Daphne and the goblin became friends. I liked the goblin because she looks funny and didn't know anything.
Noah, Age 5
(5 stars)
Like the sound of the show? The Christmas Goblin is running from now until Wed 29 Dec.